LVD Strippit to Display Axel 3015 S Linear Laser Cutting System at FABTECH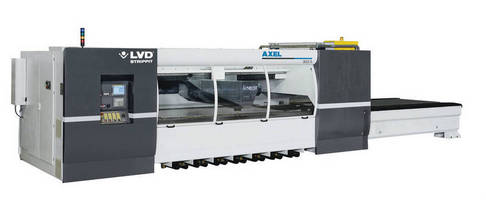 Akron, NY-LVD Strippit will exhibit the Axel 3015 S Linear laser cutting system with 4 kW laser source at FABTECH booth C3937. The Axel 3015 S Linear provides advanced laser cutting capabilities and high-speed part processing to maximize machine productivity. The laser cutting machine incorporates the most recent advancements in linear drive technology, laser power and control systems to provide superior cutting capabilities, greater flexibility and ease of use.

The Axel 3015 S Linear offers maximum performance when processing thin sheets and thick materials. A high pressure (clean cut) cutting head is available for 5", 7.5" or 10" cutting lens. The high-pressure cutting head produces exceptionally clean cuts and is equipped with a safety system that protects the head from collision with the workpiece.

A 10" cutting lens allows the Axel to quickly and efficiently process thick mild steel 10 mm to 15 mm. The 10" lens permits processing of 1" (25 mm) mild steel with a 4 kW laser source. Using the 10" lens, ¾" (20 mm) mild steel can be processed at 40"/min., 3/8" (10 mm) mild steel can be cut at speeds of 80"/min.

The Axel 3015 S Linear on display at FABTECH will feature a 4 kW laser source. The high beam quality of the 4 kW laser allows processing of thin material at extremely high speed and thick material with high quality surface finishes.

The laser source, CNC and servomotors are integrated and interfaced as a complete system to optimize machine performance, offering high speed and reliability, low operating and maintenance costs.

HIGH PROCESSING SPEED WITH SUPERIOR QUALITY

The monoframe design incorporates high precision hardened guideways and optimal drive systems to achieve high-speed acceleration and positioning speeds. The Axel 3015 S Linear boasts an improved frame design with increased stiffness. The rigid frame construction minimizes deformation caused by high acceleration, improving overall machine accuracy.

LVD Strippit's Axel 3015 S Linear features a constant beam length system that keeps the diameter of the laser beam constant, maintaining a fixed focal point position. This results in higher cutting speeds and superior cut quality maintained over the entire working area.

INTEGRATED AUTOMATION

The Axel laser system combines high-speed part processing with integrated shuttle tables for continuous, uninterrupted part processing. The shuttle table design allows one table to be loaded while the machine is cutting on the other table, maximizing uptime.

The Axel 3015 S Linear features a shuttle table drive system with double-driven timing belt for improved machine performance and reliability. Table change time is completed in 15 seconds. Shuttle tables are driven by a coupled toothed belt, which also provides faster and smoother pallet changing.

The laser system's working area is enclosed in a protective door with three large polycarbonate windows that provide a clear view of the cutting process. The manually operated rotating door also allows easy access for machine maintenance.

ABOUT LVD

The LVD Group is a leading manufacturer of a comprehensive range of sheet metal/plate working machine tools and software solutions, including laser cutting systems, punch presses, press brakes, guillotine shears and mid-level automation systems, integrated and supported by its CADMAN® PC-based Windows® compatible software.

For more information, contact Strippit, Inc., 12975 Clarence Center Road, Akron, NY 14001, call toll free 1-800-828-1527, e-mail: marketing@strippit.com or visit www.lvdgroup.com.

More from Machinery & Machining Tools