Luminaire Series includes spot and wall wash fixtures.
Press Release Summary: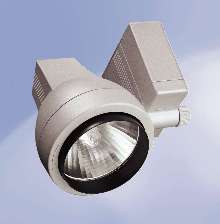 Imperia T6 ceramic, metal-halide track luminaires utilize miniature electronic ballast technology. Imperia T6 Zoom Spot uses narrow reflector for beam spreads from 8-24° and wide reflector for beams from 25-55°. Textured reflector on Imperia T6 Wall Wash fixture provides even gradient of light for wall displays and graphics, spaced up to 8 in. oc. Made of die-cast aluminum, fixtures accommodate 39, 70, and 150 W lamps for retail, commercial, and architectural applications.
---
Original Press Release:

Amerlux Lighting Solutions Introduces the Imperia T6 Line Featuring the Imperia T6 Zoom Spot


The World's Most Flexible Accent and Display Luminaire

Fairfield, New Jersey---Riding on the heels of the success of its recent T4 line of lighting fixtures, Amerlux Lighting Solutions is once again revolutionizing retail lighting with unparalleled optical performance and flexibility with the introduction of the Imperia T6 line of compact low wattage ceramic metal halide track luminaires. The Imperia T6 offering features both Spot and Wall Wash fixtures and utilizes the latest lamp and miniature electronic ballast technology, taking Amerlux's line of task-specific, energy-efficient lighting fixtures for the retail, commercial, architectural and hospitality markets, to the next level.

Breaking new ground, the Imperia T6 line features the Imperia T6 Zoom Spot which offers revolutionary optical flexibility that utilizes two specially designed reflectors for a variety of lighting applications. With the new optics the Imperia T6 Zoom beam can be adjusted in the field to adapt to changing displays. Using the Narrow reflector, the Imperia T6 Zoom fixture offers beam spreads ranging from 8 to 24 degrees for a wide range of accent lighting tasks or for providing long throws of light in high ceiling applications. With the Wide reflector, the fixture provides beams from 25 to 55 degrees offering a new class of flexibility in providing flood distributions for highlighting larger objects, groups of objects and signage.

Adjustment is achieved through a unique spring-loaded optical assembly that features a comfort snoot that provides glare control as well as cool handling of the beam adjustment. The beam is adjusted with a simple press and rotate motion on the comfort snoot. On the face of the fixture are beam indicator arrows showing the range of adjustment. Each position is held in place once adjusted, even through relamping. For ease of maintenance the Imperia T6 Zoom Spot features a die-cast lens holder that easily twists on and off to simplify re-lamping.

The Imperia T6 Wall Washer uses a high-performance textured reflector that provides an even gradient of light for wall displays and graphics, spaced up to 8" o.c. It also features a captive lamp housing door with a locking knob for hands-free re-lamping.

The Imperia T6 line integrates clean architectural styling, robust die-cast aluminum construction and best-in-class optical performance. Imperia's die-cast aluminum construction offers precise optical alignment of the lamp, reflector and lens for reliable lighting performance and consistency between fixtures and eliminates light leaks for a less obtrusive look. Vertically oriented, extruded housings accommodate ballasts ranging up to 70 watts, while isolating them from the heat of the lamp housing. Imperia T6 line also features a locking vertical adjustment, which helps maintain original, aiming positions even through re-lamping cycles. The Imperia T6 fixtures are powerful enough to replace incandescent accent lighting (up to 150 watts), while reducing energy costs by up to 70 percent.

The Imperia T6 line of fixtures uses the compact T6 bi-pin ceramic metal halide lamp, the latest in lamp technology. Wattages offered for this fixture include: 39W, 70W and 150W, with up to 15,000 hours of life.

Options for the Imperia T6 line include specially tinted reflectors in Sunrise and Ferric Gold that allow for warming of the light to incandescent-like hues, as well as snoots, louvers and cross blades. Mounting options include track, canopy and busway.

ABOUT AMERLUX LIGHTING SOLUTIONS
A recent recipient of the "Lighting Supplier of the Year" award, Amerlux Lighting Solutions is an independent, privately held company which has been a leader in designing and manufacturing flexible, high-performance lighting that adapts to the varied and evolving needs of the retail, supermarket, commercial and hospitality environments. Since 1984 Amerlux has focused on task-specific designs that deliver the right light for each application with the lowest energy consumption, utilizing the following product categories: Track, Recessed, Pendants, Linear Systems, Power Systems and custom designs.

For more information, contact:
Amerlux Lighting Solutions
23 Daniel Road East
Fairfield, NJ 07004-2527.
T: 973-882-5010 F: 973-882-8970
Website: www.amerlux.com
E-Mail: mail@amerlux.com

More from Services