Lugless BOP Cap provides secure sealing.
Press Release Summary: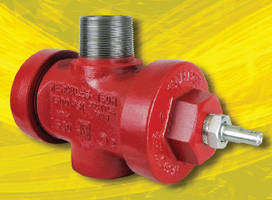 Suitable for installation on older 150H(TM) BOP models that currently have wing caps, Hercules® Lugless 150H(TM) BOP Cap has lugless end caps that allow operations to use wrench rather than hammer. Unit can be operated with standard 24 or 36 in. pipe wrench, 36 in. adjustable wrench, or 3 in. wrench. Product provides security for operators, secure sealing without leakage, and optimized service life.
---
Original Press Release:

New Hercules® Lugless 150H(TM) BOP Cap



Provides Secure Sealing with Quick and Easy Operation

Willis, Texas - R&M Energy Systems now offers the Hercules® Lugless 150H(TM) BOP Cap for secure sealing with quick and easy operation. The Hercules Lugless 150H BOP Cap increases clearance and provides an increased level of safety. The lugless end caps of the Hercules 150H BOP allow operations to use a wrench rather than a hammer to secure the end caps. The lugless BOP caps can be easily operated with a standard 24-inch or 36-inch pipe wrench, a 36" adjustable wrench or a 3" wrench - no hammer is required.

The Hercules® Lugless 150H(TM) BOP Cap provides significant benefits to end users that include an overall low total cost of ownership. Other benefits include:

- Safety for the operators

- Secure sealing without leakage

- Quick and easy installation, removal and operation that saves time and effort on the part of the operators

- Long service life to optimize the return on your investment

The Hercules® Lugless 150H(TM) BOP Caps can be installed on all older 150H(TM) BOP models that currently have wing caps.

R&M Energy Systems, part of the Fluid Management Group of Robbins & Myers, Inc., manufactures and markets a wide variety of products for use in the discovery and recovery segments of the oil and gas industry. R&M Energy Systems' products include the following: Hamer® Line Blinds; Hercules® Wellheads, Valves, Stuffing Boxes, and artificial lift accessories; Magnum® Needle Valves; standard and customized Moyno® Down-Hole Pumps; Moyno® Guardian(TM) Variable Speed Drives; Moyno® Surface Pumps, Moyno® Tri-Phaze Systems; Moyno® and Moyno® ERT(TM) Power Sections; Moyno® HTD(TM) High Temperature Down-Hole Pumps; Moyno® ElectroFlo(TM) Generators; New Era® Rod Guides; Resun® Plug Valves; RODEC(TM) Tubing Rotators, artificial lift accessories and down-hole tools; StayTite® Swing Joints; Yale® Closures and Hammer Unions; and SENTRY® Closures. With facilities in the U.S., Belgium, Venezuela, Australia and Canada, R&M Energy Systems readily serves customers worldwide.

Please forward Canadian reader service inquiries to Paul Dittrich, R&M Energy Systems Canada, 510 - 5th Street SW, Calgary, Alberta T2P 3S2, Phone: (403) 264-2995 Fax: (403) 264-2204 E-mail: fmg.marketing@robn.com

Please forward U.S. reader service inquiries to Angel Santos, R&M Energy Systems, 10586 Highway 75 North, Willis, TX, 77378. Phone: (936) 890-1064 Fax: (936) 890-9595 E-mail: fmg.marketing@robn.com

More from Non-Industrial Products