Lubricious Tool Coating extends life of punch press tooling.
Press Release Summary: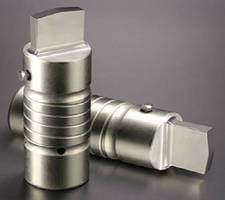 Acting as barrier between punch and sheet metal, SuperMax™Â improves stripping and extends tool life. This tool coating increases number of hits between sharpening and consequently reduces machine downtime. Other effects enhancing punching process quality and efficiency include reduced galling, slug pulling, and corner breakdown. Applied using nano-layer technology, coating offers hard, dense film that increases wear resistance and lowers friction coefficient.
---
Original Press Release:

New Mate SuperMax(TM) Tool Coating Outperforms Other Coatings 2 to 8 Times



Anoka, Minnesota – Mate's new SuperMax™ tool coating answers today's requirements for high performance, longer lasting punch press tooling. Providing a hard, wear resistant and lubricious coating, SuperMax acts as a barrier between the punch and sheet metal, greatly improving stripping and extending tool life.



A proprietary coating, SuperMax provides more hits between sharpening, which reduces machine downtime. SuperMax also reduces galling, slug pulling and corner breakdown enhancing the quality and efficiency of the punching process.



Outperforming currently available premium coatings by 2 to 8 times, SuperMax is applied using the very latest nano-layer technology. It is a harder, denser film that greatly increases wear resistance and a much lower friction coefficient of approximately 20 percent. This lower friction means less heat build-up, less galling (adhesion) and much longer tool life.



SuperMax works well on Mate's M4PM™, M2 and Durasteel™ punches in round, rectangle, oval and square punch configurations. Its application effectiveness includes 3000 and 5000 series aluminum, galvanized and stainless steels, pre-painted material, vinyl coated material and fiberglass.



"Mate SuperMax is a real breakthrough and the next generation in tool coating," stated John Galich, Mate marketing manager. "It increases tool performance beyond anything that's currently available, further substantiating Mate's mission of providing superior solutions for sheet metal fabricators."



For more information on what SuperMax tool coating can do for your punching operations, in USA and Canada call 1-800-328-4492. Outside USA and Canada, call 1-763-421-0230.



MATE PRECISION TOOLING, 1295 Lund Boulevard, Anoka, Minnesota 55303.  USA and Canada, Fax 1-800-541-0285. Outside USA and Canada, Fax 1-763-421-0285.  Website: www.mate.com.  Email: marketing@mate.com

More from Communication Systems & Equipment