Lubricated Compound replaces rubber in seals and gaskets.
Press Release Summary: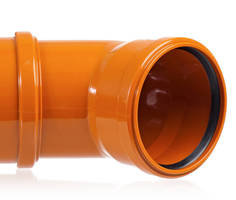 Intended for use in seals for non-pressure water and drain pipe, Sarlink® 9156-02 thermoplastic vulcanizate (TPV) elastomer provides lubricity for accelerated insertion of seals into fittings. Sealing force, retained over years, prolongs working lives of pipe seals, while stress relaxation, also maintained over years, optimizes sealing force. Processable on standard thermoplastic equipment, compound eliminates crosslinking associated with rubber and supports 2-component molding capability.
---
Original Press Release:

New Lubricated Compound Expands Advantages of TPVS over Rubber in Seals and Gaskets for Wastewater and Drain Pipe



Sarlink® 9156-02 TPV from Teknor Apex Exhibits Superior Processability and Greater Long-Term Sealing Force, while Enhanced Lubricity Helps Speed Assembly and Prevent Defects



GELEEN, THE NETHERLANDS: A new thermoplastic vulcanizate (TPV) elastomer for pipe seals exhibits the same processing and performance advantages over thermoset rubber as a well-established TPV while providing enhanced lubricity for faster insertion of seals and more error-free assembly, it was announced today by Teknor Apex Company, which will introduce the compounds at K 2016 (Stand 6C58-02).



For use in seals for non-pressure water and drain pipe, Sarlink® 9156-02 provides physical properties nearly identical to those of Sarlink 9156B, a workhorse compound for pipe seals, but as a lubricated compound it exhibits a coefficient of friction that is only 16% as high.



"The substantially greater lubricity of new Sarlink 9156-02 is a big advantage for inserting the seals into the fittings—a mechanical process in which lubrication increases speed and helps to prevent rejects," said Stef Hordijk, general sales manager for the Thermoplastic Elastomer Division of Teknor Apex. "Fittings with lubricated seals also facilitate pipe insertion, which is done by hand at the construction site. By reducing the forces needed for inserting the pipe into the fitting, lubrication helps prevent improper assembly and damage to the seal."



Like Sarlink 9156B, the new lubricated compound exhibits greater retention of sealing force over a period of years than rubber, prolonging the working lives of pipe seals, which must prevent leakage from within the pipe and seepage from outside. Sealing force is measured by the degree of stress relaxation. Compared with rubber, both TPVs exhibit lower levels of stress relaxation over a period of years, particularly at elevated temperatures.



Both TPVs also make possible substantially greater productivity than rubber by eliminating the crosslinking step, by being processable on standard thermoplastic equipment with much less scrap, and by providing the capability of two-component molding.



"The ability to be two-component molded is a key advantage of Sarlink compounds for pipe seals," said Chris Smith, senior market manager. "This has made it possible to create seals as single, integral parts that combine the sealing performance of elastomers with the rigidity of materials like polypropylene or higher-durometer TPVs. The two-component seals differ in design from rubber seals, providing easier and more effective ways to position the seal in the fitting. By contrast, rubber seals have typically been single-component items that are made thicker to provide sufficient rigidity to hold the seal in place."



Properties of new Sarlink 9156-02 appear in the accompanying table. Both Sarlink 9156-02 and Sarlink 9156B compounds are available worldwide



About Teknor Apex. Teknor Apex Company, a privately held firm founded in 1924, is one of the world's leading custom compounders of plastics.  Teknor Apex produces flexible and rigid vinyl, thermoplastic elastomers, nylons, color masterbatches, specialty chemicals, and hoses. The company is headquartered in Pawtucket, RI, U.S.A. and operates thirteen manufacturing facilities worldwide in the United States, Belgium, Germany, China, and Singapore. To learn more visit: www.teknorapex.com.



The Thermoplastic Elastomer Division of Teknor Apex Company offers the broadest portfolio of TPE compounds available from a single source. The division compounds TPEs at eight locations in the U.S., Europe, and Asia under the brands: Elexar® (electrical and electronics applications), Medalist® (medical devices), Monprene® (consumer and industrial products), and Sarlink® (transportation).



READER INQUIRY INFORMATION:  Americas: Teknor Apex, 505 Central Avenue, Pawtucket, RI  02861 U.S.A.  Tel: 1-401-725-8000. Tel. from U.S. only: 1-866-GET-TPEs (1-866-438-8737).  Fax: 1-401-728-5680. E-mail: tpe@teknorapex.com. Europe: Teknor Apex, Mijnweg 1, 6167AC, Geleen, Netherlands. Tel: 31 (0) 46-7020950. Email: eutpe@teknorapex.com.  Asia: Teknor Apex Asia Pacific, 41 Shipyard Road, Singapore 628134.  Tel: 65-6265-2544.  Fax: 65-6265-1821.  Email: apactpe@teknorapex.com.



Robert J. Martino

Martino Communications Inc.

8 Main Street / P.O. Box 379

Hastings-on-Hudson, NY 10706 U.S.A.

Tel: 1-914-478-0754

Email: bob@martinocommunications.com

www.martinocommunications.com

www.twitter.com/MartinoComms