Lubricant Storage/Dispensing System features 130 gal container.
Press Release Summary: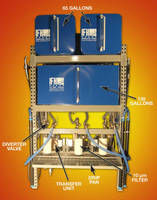 In addition to two 65 gal containers and one 130 gal container, Lubrication Storage & Dispensing System features 3-way product diverter valve assemblies, individual pumping systems, and 10-micron filters. Products, such as oils and lubricants, can be pumped in and out and kidney looped through filters. Individual pumping systems eliminate any chance of cross-contamination, and system can be customized to include containers of any size. Optional spill containment system is available.
---
Original Press Release:

IFH Lubricant Storage & Dispensing Systems Feature 130-Gallon Containers and 3-Way Diverter Valve Assemblies



Rock Falls, IL -- Lubrication Storage & Dispensing System from the originator of industrial fluid storage and handling systems, The IFH Group, has two 65-gallon containers and one 130-gallon container plus 3-way product diverter valve assemblies, individual pumping systems and 10-micron filters. Products (oils, lubricants) can be pumped in and pumped out and kidney looped through the filters.  Individual pumping systems ensure no cross-contamination.



The 3-way diverter valves, in combination with the individual pumping systems and filters, allow product to be pumped through the filters into the containers, and then pulled back out of the containers through the filters with the transfer units. Product can also be pulled from the containers, cycled through the filters and sent back into the containers (kidney loop).



The system can be customized to include containers of virtually any size.  Capacities include 500, 300, 250, 130 and 65 gallon sizes. Optional equipment available includes the IFH Spill Containment System that prevents costly cleanups and potential fines.



"IFH has been fabricating large capacity containers for years," noted Larry King, Midwest Regional Sales Manager. "We can supply containers of virtually any size, as well as any custom components our customers need. We've been doing it for over 40 years, and there aren't many requirements we can't meet, if any."



About The IFH Group

The IFH (Innovative Fluid Handling) Group is the originator of stationary and mobile lubricant storage and dispensing systems for handling oils, lubricants and other industrial fluids.  IFH designs and manufactures standard and custom stationary fluid storage & dispensing systems for oil and lube rooms as well as a range of mobile lubrication carts and systems to provide an easier, safer and cleaner alternative to clumsy, messy and wasteful 55-gallon drums. For four decades, IFH systems have eliminated the cost of wasted space, time, labor, fluids and unnecessary equipment purchases.



For more information, contact The IFH Group, Inc., 3300 East Route 30, Rock Falls, IL, 61071. Tel: 800-435-7003; Fax: 815-626-1438; info@ifhgroup.com. Or visit www.ifhgroup.com

More from Sensors, Monitors & Transducers