LTC7106 Bidirectional Current DAC features internal power-on reset circuitry.
Press Release Summary: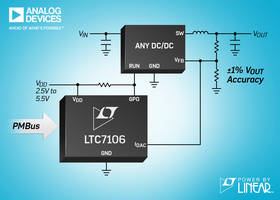 Linear™ LTC7106 Bidirectional Current Digital to Analog Converter is offered in 2 x 3 mm DFN-10 package. Unit feature an internal digital programmable slew rate (500 ns/step to 3.5 ms/step), range bit and pen-drain output. DAC is operated with input voltage ranging from 2.5 V to 5.5 V and delivers ±16 µA to ±256 µA output current. Product comes with PMBus compatible interface which converts 7-bit serial code to bidirectional (source, sink) output current.
---
Original Press Release:
Control VOUT of Any DC/DC Regulator with a Serial PMBus Interface
Analog Devices announces the Power by Linear™ LTC7106, a PMBus I²C controlled precision bidirectional current DAC designed to adjust the output voltage of virtually any DC/DC regulator. Through its PMBus compatible interface, the LTC7106 receives a 7-bit serial code and converts it to a bidirectional (source, sink) output current. When the current is fed into the feedback network of a regulator, its output voltage can be programmed dynamically for load power/performance optimization or margining in response to serial VID commands. Available in a 2mm x 3mm DFN-10 package, the LTC7106 enables small and simple solution for a wide range of discrete and modular DC/DC voltage regulators.
View the LTC7106 product page, download data sheet, order samples and evaluation boards: www.linear.com/product/LTC7106
Its internal power-on reset circuitry keeps the DAC output current at zero until a valid write takes place. Other features include a range bit for easy interfacing to almost any impedance resistor divider, and an open-drain output for controlling the Run or Enable pin of the regulator. To prevent abrupt changes in the DAC output current and subsequently the output voltage of the regulator, an internal digital programmable slew rate can be programmed from 500ns/step to 3.5ms/step.
The LTC7106 operates over an input voltage range of 2.5V to 5.5V and is supported by the easy to use LTpowerPlay® development tool with graphical user interface (GUI). Additional features include ±1% output current accuracy over temperature, a wide range bidirectional DAC output current from ±16µA to ±256µA, wide DAC operational voltage range from 0.4V to 2V, and a precision enable threshold to support external undervoltage lockout. Extended and industrial temperature versions are available from –40 to 125°C. For more information, visit www.linear.com/product/LTC7106.
Summary of Features: LTC7106
VOUT Control of Any Regulator
±1% Output Current Accuracy (–40°C to 125°C)
PMBus/I²C Compliant Serial Interface
Input Voltage Range: 2.5V to 5.5V
7-Bit Programmable DAC Output Current for VOUT Control
Wide Range of IDAC Output Current: ±16µA to ±256µA
Programmable Slew Rate: 500ns ~ 3.5ms per Bit
High Impedance at IDAC Output When Disabled or at DAC Code Zero
Wide DAC Operation Output Voltage (0.4V to 2.0V)
Precision Enable Threshold to Support External UVLO
Available in 10-Lead 3mm × 2mm DFN Package
   Product                Production Availability                              Price Each Per 1,000                              Package
   LTC7106                    Now                                                       Starts at $1.25                            3mm x 2mm DFN-10
About Analog Devices
Analog Devices is the leading global high-performance analog technology company dedicated to solving the toughest engineering challenges. We enable our customers to interpret the world around us by intelligently bridging the physical and digital with unmatched technologies that sense, measure, power, connect and interpret. Visit http://www.analog.com.
More from Chemicals & Gases