LSZH D-Subminiature Cables are available in 1 to 125 ft lengths.
Press Release Summary: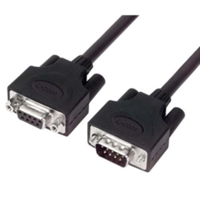 Suitable for military networking applications, Low-Smoke Zero-Halogen D-Subminiature Cables come with jackets and connectors. Units are offered off-the-shelf with male and female DB9, DB15 and DB25 connectors. Products are ideal for aircrafts, armored vehicles, ships and submarines applications.
---
Original Press Release:
MilesTek Debuts Low-Smoke Zero-Halogen D-Sub Cable Assemblies for Military Applications
MilesTek, a leading manufacturer and supplier of products designed to address military and avionics applications, announced today that it has introduced a new series of low-smoke zero-halogen (LSZH) D-Subminiature cables to address confined space military networking applications.
Low-smoke zero-halogen cable jackets and connector over-molds reduce the amount of toxic and corrosive gases emitted during combustion. Typically used in poorly ventilated areas, low-smoke zero-halogen cables are commonly used in military applications and anywhere the protection of people and expensive communications equipment from toxic and corrosive gases is required.
These cables are available off-the-shelf with various connector combinations that include male and female DB9, DB15 and DB25 connectors and they are available in standard lengths ranging from 1 foot to 125 feet. Custom lengths are available upon request.
"Our new low-smoke D-Sub cables are perfect for use in confined space applications including aboard aircrafts, armored vehicles, ships and submarines. The unique properties of LSZH compound ensure the safety of personnel and equipment in the event of a fire," said Mark Hearn, Product Manager.
MilesTek's new LSZH D-Sub cables are in stock and available for immediate shipment.
About MilesTek:
MilesTek designs and manufactures a broad range of MIL-STD-1553B products to address Military Avionics, Aerospace, Industrial and government applications. In addition to a wide selection of off the shelf products, MilesTek can custom manufacture cable assemblies and harnesses. MilesTek is headquartered in Lewisville, Texas and is AS9100C and ISO9001:2008 certified. MilesTek is an Infinite Electronics company.
Related