LP350 Skidding System is capable of pushing loads up to 350 tons.
Press Release Summary: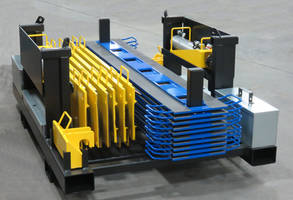 Eliminating use of plastic pads, LP350 Skidding System features graphite-steel slide surface and heavy track range. Capable of working in extreme weather conditions, system is suitable for use in areas having limited access such as inside buildings, doorway or access route.
---
Original Press Release:
Hydra-Slide Launches 350-ton Low Profile Skidding System
Canadian manufacturer Hydra-Slide has launched its third low profile hydraulic skidding system - the LP350 - that has already proved its value in two applications in the UK, where international sales partner Rapid Response Solutions (RRS) recently took delivery of the first unit off the production line.
The LP350, capable of pushing loads up to 350 tons (310 tonnes), represents continued evolution of the low profile range that includes the XLP150 and LP400 systems. Different to their heavy track counterparts, the products are completely hand-portable and low profiles suit them to use in areas with limited access or clearance.
A standout component of the LP350 is the graphite-steel slide surface, also a feature of the heavy track range, replacing the ultra-high-molecular-weight polyethylene (UHMW) pads that were subject to wear and vulnerable to extreme weather conditions. Elimination of the plastic pads has also decreased the profile by another 0.5 inches.
Janine Smith, vice president at Hydra-Slide, said: "We've had an extremely positive response to our two current low profile skid models. As applications across the globe have proved, they require little heavy equipment for transportation, set-up and operation. Aligned with our ambition to continually improve on past successes we conceptualized a new system that, like its predecessors, is assembled with simple connections and designed with the operator in mind."
Lifting, transport and storage specialist RRS used the LP350 for two marine and industrial projects shortly after taking delivery of the equipment. Having moved an approx. 20-tonne engine and associated components out of a hangar onto the flight deck of a naval ship, it then removed a 25-tonne gearbox from within a confined plant-room.
Paul Barber, managing director at RRS, said: "On both occasions it showed its ability. Having used the HT300 [heavy track] system previously we knew the products were good and, while the LP350 brings something different to the jobsite, it proved to be just as efficient. On the naval project we needed to keep the point loadings to a minimum on the deck and we didn't have the headroom to lift the gearbox from above in the plant environment. Further, we had nowhere to attach winches so the skidding system was perfect."
Barber, who conducted a series of in-house tests with the system prior to the projects referenced above, lauded the graphite-steel slide surface, citing its ability to work in all extremes of weather. He said: "The height difference between the models could dictate a particular need for the XLP150 but for general use the height of the LP350 is an ideal solution."
Barber continued: "The potential for this system is massive as there are so many tasks that can now be completed safer. The centre of gravity is lowered; there is no risk of 'run-away'; and importantly no requirement for the operators to engage in manual pushing or pulling that could cause injury. Application inside a building is an obvious advantage; we have quoted for a task where the internal height through a doorway or access route won't allow for traditional skates so we have presented the LP350 as a solution."
Hydra-Slide's Smith added that LP400 customers will still be able to order replacement components or additional parts, as required.
Contact for editorial enquiries:
Janine Smith,
vice president,
Hydra-Slide Ltd.
Related