Loyola University Chicago's Center for Sustainable Urban Living features Wausau's High-Performance, ADA-Accessible Windows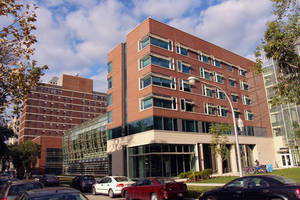 Loyola University Chicago's Center for Sustainable Urban Living features Wausau's high-performance, ADA-accessible windows



Wausau, Wisconsin - Loyola University Chicago (LUC) strives to be one of the most sustainable urban campuses in the United States. The newly opened Center for Sustainable Urban Living (CSUL) showcases many of LUC's most innovative, eco-friendly features, including natural light and views from nearly 400 large, high-performance windows from Wausau Window and Wall Systems. Along with helping attain sustainability goals, many of the windows also needed to meet accessibility criteria.



The goal of CSUL is to become a closed-loop urban agricultural community, a net-zero sustainable environment where people live, work and grow their own food. Solomon Cordwell Buenz of Chicago and Chicago-based Halverson and Partners Structural Engineers concurrently designed the complex to achieve LEED® Gold certification through the U.S. Green Building Council. According to LUC's Office of Sustainability, the CSUL complex will contribute to a 50 percent decrease in energy consumption from the ASHRAE's standard energy baseline.



The CSUL includes Wright Hall, an existing 11-story structure whose lower three levels were renovated and expanded to allow it to house the Institute of Urban Environmental Sustainability (IUES), and the newly constructed San Francisco Hall, a 357-bed freshman and sophomore student residence. The areas are connected by a three-story glass atrium. The adjacent new six-story DeNobili Hall completes the IUES compound.



Working under the direction of Chicago-based general contractor Power Construction, glazing contractor Alliance Glazing Technologies, Inc. of Romeoville, Illinois, installed Wausau's high-performance windows and curtainwall systems throughout CSUL. In total, the project used approximately 34,250 square feet of SuperWall™ curtainwall, nearly 225 of Wausau's 3250i INvent™ Series windows and 100 of its 4250-Z Series zero sightline insert windows.



"Certain windows had to meet [accessibility standards per the City of Chicago," explains Alliance Glazing Technologies' project executive, Patrick Love. "We knew that meeting the City's, as well as the owner's requirements, while also meeting the design's specified daylighting and ventilation requirements, would require a lot of coordination between Alliance and the window manufacturer. I had worked with Wausau in the past and felt confident that they'd be up for the job -- and they were."



Wausau's INvent Series windows feature specially designed, locking hardware options that meet the operating force and limited motion requirements of the International Code Council and American National Standards Institute ICC/ANSI A117.1 as required by the Americans with Disabilities Act (ADA).



"Wausau's accessible, outward-projecting windows – whether casement or awning -- capitalize on the mechanical advantage, built-in sash retention, and reachable location of roto operators to provide an accessible solution," adds Wausau's education market manager, Steve Gille. "These windows operate with one hand, and require an operating force of five pounds or less to unlock, open, close and lock without making users need to tightly grasp, pinch or twist their wrists. Beyond operation, lab testing of these accessible units finds no reduction in air, water or structural performance."



The Wausau windows and SuperWall curtainwall provided for CSUL's Wright Hall, San Francisco Hall, DeNobili Hall and atrium are pre-engineered and factory-glazed as part of the Advantage by Wausau® standard product offering. Available on an accelerated delivery schedule, these competitively priced systems are backed with an industry-leading warranty of up to 10 years.



For low-maintenance durability, all of the exposed aluminum on Wausau's products manufactured for CSUL contain recycled content averaging 70 percent or greater and were painted by Linetec in Kendall Charcoal and Oyster color combination. As an environmentally responsible finisher, Linetec safely captures and destroys the volatile organic compounds (VOCs) present in liquid paints at the factory before arrival on the building site. These industry-leading practices complement other green building choices and ensure a long-lasting, durable and sustainable finish.



Other sustainable elements are incorporated throughout Wright Hall, home to Loyola's robust IUES. The space includes classrooms, research and teaching laboratories, a clean energy laboratory, an aquaponic farming display and more. The adjoining six-story, 215,000-square-foot San Francisco Hall offers traditional freshman double rooms with an online dashboard that will show real-time energy use by floor, and facilitate competitions and conservation among residents.



A three-story student amenities atrium unites the CSUL facilities and includes a dining hall, large lobby, recreational spaces and a 3,700-square-foot greenhouse. The atrium harvests energy through a photovoltaic power system. Its glass roof is designed on a slope so water that falls upon it will be collected in a huge cistern underneath the facility. This water will be reused in the greenhouse for irrigation purposes.



The CSUL facilities' other, innovative and sustainable attributes include 92 geothermal wells that are 500 feet deep. This will provide heating/cooling energy for the facility and is the largest system within the City of Chicago. CSUL's initiatives are reflected across the entire LUC campus, such as its:

• Biodiesel program, Clean Air/Clean Water monitoring and the Healthy Homes Initiative

• Green roofs -- more than any other university in the Midwest

• Lake Shore Campus keeping more than 10 million gallons of stormwater out of the combined sewer system, protecting the Chicago River and Lake Michigan

• A- on the 2011 Sustainability Report Card of the Sustainable Endowments Institute

• Ban on bottled water, introduction of a community farmer's market and other student-led changes to programs and policies



Construction began on the CSUL in October 2012 and was completed in time to welcome students for the 2013-14 academic year. "Wausau did a great job on this project," concludes Love. "I was very impressed with the customer service, the timeliness of their material deliveries and the quickness in which they all responded to our needs. I look forward to working with them again soon."



Center for Sustainable Urban Living, Loyola University Chicago, 1032 W. Sheridan Road, Chicago, IL 60660; http://www.luc.edu/sustainability/index.shtml

• Owner: Loyola University Chicago; Chicago http://luc.edu

• Architect: Solomon Cordwell Buenz; Chicago; http://scb.com

• Structural Engineers: Halverson and Partners; Chicago; http://www.halvorsonandpartners.com 

• General contractor: Power Construction LLC; Chicago; http://www.powerconstruction.net/

• Glazing systems - installer: Alliance Glazing Technologies, Inc.; Romeoville, Illinois; http://www.allianceglazing.com

• Glazing systems - manufacturer: Wausau Window and Wall Systems; Wausau, Wisconsin;

http://www.wausauwindow.com

• Glazing systems - finisher: Linetec; Wausau, Wisconsin; http://www.linetec.com

• Photos courtesy of Alliance Glazing Technologies, Inc.



Nationally recognized for its innovative expertise, Wausau Window and Wall Systems is an industry leader in engineering window and curtainwall systems for commercial and institutional construction applications. For more than 55 years, Wausau has worked closely with architects, building owners and contractors to realize their vision for aesthetic beauty, sustainability and lasting value, while striving to maintain the highest level of customer service, communication and overall satisfaction. Wausau is a part of Apogee Enterprises, Inc., a publicly held, U.S. corporation.



Wausau and its staff are members of the American Architectural Manufacturers Association (AAMA), the American Institute of Architects (AIA), the APPA – Leadership in Educational Facilities, the Construction Specifications Institute (CSI), Design-Build Institute of America (DBIA), Glass Association of North America (GANA), the National Fenestration Ratings Council (NFRC) and the U.S. Green Building Council (USGBC).