Low-Voltage Motors afford flexible deployment.
Press Release Summary: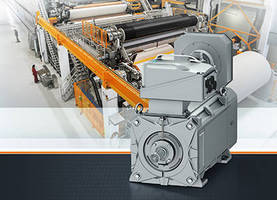 With outputs from 200–1,600 kW and shaft heights from 315–450 mm, Simotics FD motors offer modular concept for flexible and optimized adaptation to individual applications. Modular structure provides flexibility to choose between air and water cooling or self and forced ventilation, while diagonally divided terminal box can be rotated in 90° steps and is sized to facilitate connection. Design features cooling ribs integrated directly in stator core in rectangular gray cast-iron enclosure.
---
Original Press Release:

Complete Range of Low-Voltage Motors from Siemens for Flexible Deployment



Nuremberg –



Full range of Simotics FD motors in the output range from 200 to 1,600 kilowatts

Modular concept for high flexibility and optimum adaptation to individual applications

Integrated Drive System (IDS) comprising Simotics FD motor and Sinamics frequency converter meets the requirements of the IES2 system efficiency class



Siemens has completed its spectrum of Simotics FD low-voltage motors. The new motors, covering the output range from 200 to 1,600 kilowatts and with shaft heights ranging between 315 and 450 millimeters, are optimized for converter operation and are particularly energy efficient, especially in the partial load range. In combination with Sinamics low-voltage converters, they form an Integrated Drive System (IDS) that meets the requirements of the IES2 system efficiency class. Compared to the reference system of the standard, this means that losses are reduced by 35 percent. The modular structure provides customers with maximum flexibility, allowing them to choose for example between air cooling and water cooling or between self-ventilation and forced ventilation. Service concepts such as predictive condition monitoring round off the portfolio.



Because the modular concept enables users to choose for example between air cooling and water cooling or between self-ventilation and forced ventilation, the Simotics FD motors can be adapted to suit extremely diverse applications.



The Simotics FD motors are ideally suited for use with Sinamics low-voltage converters and, as part of an IDS, offer a cost-effective, energy-efficient complete system that generates very little noise.



In combination with the Sinamics low-voltage converters, the drive train meets the requirements of the IES2 system efficiency class. If the entire drive system is water-cooled, heat recovery can be used to boost efficiency even further. Because the power density of the water-cooled motors is up to 30% higher, they are extremely compact.



The terminal box can be rotated in steps of 90 degrees, is diagonally divided and has a large format, making it particularly easy to connect. Comprehensive service, ranging from online condition monitoring and repair right through to retrofitting, is ensured via the global service network. The innovative and compact new motor design is compatible with the Simotics TN series N-compact. It has no need for external cooling ribs; these are integrated directly in the stator core in the rectangular gray cast-iron enclosure, enabling cooling to take place in the enclosure close to the heat source.



The Sinamics G120P converter and Simotics FD motor combination has been designed specifically for pump-and-fan applications, where it performs particularly well. Simotics FD motors are now used widely across all sectors, including plastics, cement, mining, steel, marine, paper, crane, water/wastewater and chemical. Thanks to the latest addition, they now cover the entire output range.



For further information on Simotics FD, visit www.siemens.com/simotics-fd.



Siemens AG (Berlin and Munich) is a global technology powerhouse that has stood for engineering excellence, innovation, quality, reliability and internationality for more than 165 years. The company is active in more than 200 countries, focusing on the areas of electrification, automation and digitalization. One of the world's largest producers of energy-efficient, resource-saving technologies, Siemens is No. 1 in offshore wind turbine construction, a leading supplier of combined cycle turbines for power generation, a major provider of power transmission solutions and a pioneer in infrastructure solutions as well as automation, drive and software solutions for industry. The company is also a leading provider of medical imaging equipment – such as computed tomography and magnetic resonance imaging systems – and a leader in laboratory diagnostics as well as clinical IT. In fiscal 2014, which ended on September 30, 2014, Siemens generated revenue from continuing operations of €71.9 billion and net income of €5.5 billion. At the end of September 2014, the company had around 357,000 employees worldwide. Further information is available on the Internet at www.siemens.com.



Mr. Stefan Rauscher

Process Industries and Drives Division

Siemens AG

Gleiwitzer Str. 555

90475  Nuremberg

Germany

Tel: +49 (911) 895-7952

Stefan.Rauscher@siemens.com

More from Architectural & Civil Engineering Products