Low-Vibration Needle Scalers carry ATEX certification.
Press Release Summary: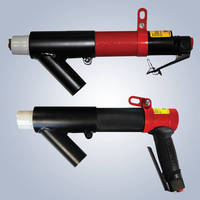 Trelawny™ ATEX Vibro-Lo™ series removes coatings/corrosion and cleans other accumulated materials from surfaces. Operating at 5.5 cfm of air and providing up to 3,000 bpm, units are ATEX-certified Ex II 2 Gc IIA T4 and come with non-sparking Copper Beryllium needles. Minimal vibration (2.3 Aeq m/s² max) reduces operator fatigue and increases efficiency. While models VL203Ex and VL303Ex have pistol grip handle and 19 and 28 needles (respectively), model VL223Ex has inline handle and 19 needles.
---
Original Press Release:

CS Unitec Offers ATEX-Certified Needle Scalers for Use in Hazardous Environments



CS Unitec has introduced a line of low-vibration needle scaler kits that are ATEX certified for use in hazardous environments such as those found in the oil, gas and petrochemical industries, sugar refineries and grain silos. The Trelawny™ ATEX Vibro-Lo™ series is designed for all surfaces – metal and masonry – to remove coatings and corrosion and clean other accumulated materials. Models VL203Ex, VL223Ex and VL303Ex are ATEX-certified Ex II 2 Gc IIA T4 for use where hazardous, flammable or combustible vapors, gases or mists are present and surface temperatures do not exceed 275° F. This series produces 7x less vibration than traditional needle scalers. The lower vibration reduces operator fatigue, increases efficiency and helps to prevent injury. The scalers operate at only 5.5 CFM of air with vibration levels up to 2.3 Aeq m/s2.



These lightweight, easy-to-handle pneumatic units provide up to 3000 blows per minute. They are ideal for irregular surfaces that are otherwise difficult to prepare. The VL203Ex and VL303Ex are designed with a pistol grip handle and have 19 and 28 needles, respectively. Model VL223Ex has an inline handle and is equipped with 19 needles. Changing needles is quick and easy, requiring no additional tools. Non-sparking Copper Beryllium needles are supplied with the tool.



Equipped with a vacuum shroud, these models can be attached to a dust extraction vacuum to reduce hazardous airborne materials. The kit contains a spare set of Copper Beryllium needles and a fall arrestor to eliminate the risk of dropping the tool when working at heights or in applications where dropping/losing the tool is likely.



Contact:

CS Unitec, Inc.

22 Harbor Avenue

Norwalk, CT 06850

P: 800-700-5919 / 203-853-9522

E: info@csunitec.com

www.csunitec.com



CS Unitec will be exhibiting at the Offshore Technology Conference (OTC) in Houston, Texas at Booth #5709.

More from Cleaning Products & Equipment