Low-Profile Single 2-Piece Contacts feature locking plug.
Press Release Summary: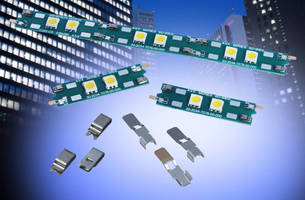 Intended for linear LED lighting and other commercial and industrial coplanar and extended card applications, 70-9159 Series STRIPT™ insulator-less, single 2-piece contacts with locking plug have 1.2 mm profile. Positive latching mechanism replaces thermal adhesives, hand soldering, and light-blocking connectors. Based on 9159 Series gold-plated BeCu spring contact system, SMT contacts work with existing 70-9159 Series sockets and are rated for 300 V, 5 A, 5-cycle durability, and -40 to +125°C.
---
Original Press Release:

AVX Adds a Locking Plug to its Single Two-Piece Contact Series for Board-to-Board Applications



Now available with a locking plug ideal for use in low-cost linear LED lighting, & other commercial & industrial coplanar & extended card applications, the newly expanded 70-9159 Series STRIPT™ contacts deliver the industry's smallest profile capable of supporting a full 5A



FOUNTAIN INN, S.C. – AVX Corporation, a leading manufacturer of passive components and interconnect solutions, has added a locking plug to its low-profile 70-9159 Series single two-piece contacts for high current, coplanar PCB mating applications, which deliver the industry's smallest profile capable of supporting a full 5A. The latest addition to AVX's revolutionary, robust, and cost-effective portfolio of STRIPT™ insulator-less single contact solutions, the new 70-9159 Series locking plug contact features a positive latching mechanism that effectively replaces costly thermal adhesives, unreliable hand soldering, and large, light-blocking connectors in low-cost linear LED lighting, and a variety of other commercial and industrial coplanar and extended card applications.



Based on AVX's market-proven 9159 Series gold-plated beryllium-copper (BeCu) spring contact system, the new SMT locking plug contacts provide a reliable gold-to-gold active contact interface; can absorb a millimeter of tolerance in the x and y direction, maximizing lateral PCB alignment and mating tolerances for board-to-board applications; and deliver enough force to keep PCBs securely fastened during both shipping and handling, and in high stack tolerance applications. Compatible with existing 70-9159 Series sockets, the locking plug contacts are not only fully interchangeable with the series' non-locking plug contacts, but are sold at the same price. The new locking plug also features the same minimal 1.2mm height profile as the rest of the series, which prevents shadowing effects in LED lighting applications, and can be individually placed and spaced to support any pin count and any voltage rating with a full 5A current rating.



"Most PCB mating applications use a costly thermal adhesive, unreliable hand soldering process, or large, light-blocking connector to hold PCBs in place. Standing a mere 1.2mm above the board, our insulator-less 70-9159 Series contacts — which, for years now, have proven cost-effective and robust in linear LED lighting fixtures — eliminate the need for these costlier or less reliable and repeatable connections, while simultaneously optimizing functionality, assembly, and economic ROI," said Tom Anderson, connector product manager, AVX. "Adding a small latch to our original plug contact has allowed us to offer our customers the proven performance of the series with an added-value benefit at no additional cost, and while maintaining full backward compatibility with existing designs. Individual 70-9159 Series contacts can also support both board-to-board and wire-to-board applications, further improving their already attractive price/performance ratio."



70-9159 Series single two-piece contacts are rated for 300V (based on placement distance), 5A current, five-cycle durability, and operating temperatures spanning -40°C to +125°C. RoHS compliant and packaged on tape and reel for automated SMT placement, the series is also UL-approved based on a 3.2mm minimum gap between pads or 5.6mm contact center spacing (UL E90723), with the exception of the new locking plug contact, which is still in the midst of the UL approval process.



For more information about AVX's low-cost, low-profile 70-9159 Series single two-piece contacts, including the new locking plug contact, please visit http://www.avx.com/products/connectors/board-to-board/single-2-piece-contacts-70-9159/ to access the product datasheet, catalog, part number information, and 3D model. For all other inquiries, please visit www.avx.com, call 864-967-2150, or write to One AVX Boulevard, Fountain Inn, S.C. 29644.



About AVX

AVX Corporation is a leading international manufacturer and supplier of electronic passive components and interconnect solutions with 20 manufacturing and warehouse facilities in 11 countries around the world. AVX offers a broad range of devices including capacitors, resistors, filters, timing and circuit protection devices, and connectors. The company is publicly traded on the New York Stock Exchange (NYSE:AVX).



A member of the Kyocera Group since 1990, AVX is also the only company authorized to supply Kyocera's electronic devices to the Americas and Europe. Established in 1959 and based in Kyoto, Japan, Kyocera Corporation is a leading international supplier of connectors, capacitors, ceramic resonators, surface acoustic wave (SAW) filters and duplexers, and crystal oscillators and timing devices.



For more information, contact:

Tom Anderson

Connector Product Manager, AVX

843-241-2179

tom.anderson@avx.com



Christine Stieglitz

PR Executive, BtB Marketing

919-872-8172

christine.stieglitz@btbmarketing.com

More from Controls & Controllers