Low-Profile Sifter features gap-free design.
Press Release Summary: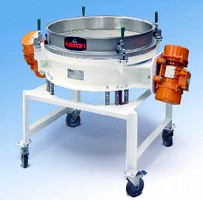 Offered in 24, 30, 40, 48, and 60 in. dia, Flo-Thru Sifter scalps oversize particles down to 38 microns from dry bulk materials or solids-laden slurries. Employing 2 unbalanced-weight gyratory motors mounted on opposite exterior sidewalls, unit enables on-size particles to pass through screen in vertical discharge path, while oversize material can be removed manually or with vacuum. Gap-free screen frame with quick-disconnect clamps and crevice-free interior allow thorough washdown.
---
Original Press Release:

Gap-Free, Low-Profile Sifter



MILLBURN, NJ-A new low-profile "Flo-Thru" sifter from Kason Corporation features a gap-free screen frame with quick-disconnect clamps and a crevice-free interior finished to cGMP, 3-A, USDA and FDA standards, allowing rapid, thorough washdown, it was announced by Henry Alamzad, president.

The low-profile configuration employs two unbalanced-weight gyratory motors mounted on opposing exterior sidewalls of the unit, instead of one motor positioned beneath the screening chamber, reducing minimum height requirements significantly. On-size particles pass rapidly through the screen in a vertical discharge path at higher rates than with circular screeners having centrally mounted gyratory motors and horizontal discharge paths. Oversize material can be removed manually or with a vacuum.
The unit can be disassembled with no tools for rapid sanitizing and is intended to scalp oversize particles as small as 38 microns (400 mesh) from dry bulk materials or solids-laden slurries.

The screen frame's interlocking flange fully envelops the support ring of the screen, allowing the wire mesh of the screen to fully extend to the interior walls of the frame, eliminating the gap between the screen ring and frame wall of conventional screeners where material would collect.

"The gap-free design with sanitary finish can eliminate contamination due to bacteria growth while improving sanitizing efficiency," says Alamzad, "making it suitable for food, dairy and pharmaceutical products and for other contamination-sensitive products."

Screens are mounted to support rings using FDA-approved epoxy and sealed using FDA-approved gasket material, and can be provided with a mesh-tolerance certificate. The wire mesh screening material is offered in 304, 316 and "magnetic" 400-series stainless steel that can be captured by a downstream magnet if broken.

The sifter is offered in diameters of 24, 30, 40, 48 and 60 in (610, 762, 1016, 1219 and 1524 mm). It can be equipped with either single or twin imbalanced-weight gyratory motors, and furnished with a dust-tight cover.

The company also manufactures other circular vibratory screeners, as well as centrifugal separators, and circular fluid bed dryers, coolers and moisturizers.
For information contact Kason Corporation, 67-71 East Willow St., Millburn, NJ 07041,
1-973-467-8140, info@kason.com, www.kason.com

More from Electrical Equipment & Systems