Low Profile SCBA is designed for fire industry.
Press Release Summary: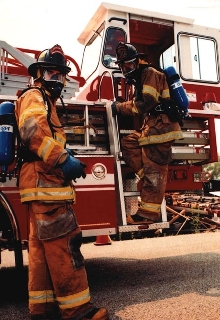 NFPA approved AirBoss PLUS® comes with harness suspension system that distributes weight onto hips for safety, comfort, and movability. Ergonomically designed unit is custom made to suit individual firefighters, and its positive pressure Lung Demand Valve (LDV) supplies as much air as required by user without hesitation. Sentinel II electronic warning system monitors vital functions of user while providing real time information.
---
Original Press Release:
Draeger Responds to Fire Market with New PLUS® SCBA

June 28, 2002 - - Pittsburgh, PA - - Draeger Safety, Inc., the world's largest Self-Contained Breathing Apparatus (SCBA) manufacturer, with USA headquarters in Pittsburgh, PA has been working with fire departments across the country to develop more advanced and technical products specifically for the fire industry. The result of this is the newest NFPA approved Draeger Self Contained Breathing Apparatus, called the AirBoss PLUS® complete with a new harness suspension system.

"We are the only manufacturer to answer the call for the fire industry with a truly ergonomically designed breathing apparatus tailor-made to suit the individual firefighters. The harness design distributes the weight onto the hips for more safety, comfort, and move ability, fitting both male and female firefighters alike." Said Mr. Paul House, the Business Manager for breathing protection at the Pittsburgh based company.

With the introduction of the new Draeger PLUS® series SCBA, firefighters will benefit from the unique features on the SCBA such as the new low profile, positive pressure Lung Demand Valve (LDV). The new LDV supplies, on demand, as much air as required by the firefighter without hesitation.

"We have also introduced our new Sentinel II a fully integrated, electronic warning system that monitors the vital functions of the firefighter in the fire, while providing them with real time information. The Sentinel Personal Safety System (PSS) is the key to a telemetry/accountability system called MERLIN that will be introduced into the USA within the next 12 - 18 months." Mr. House said.

The MERLIN transfers vital information to and from the firefighter and command center without voice communication.

"The Merlin system is the firefighter's second pair of eyes. The officer-in-charge can see at a glance, vital firefighter information, like actual breathing time, cylinder pressure, time-to-warning whistle, absorbed temperature that the firefighter has been exposed to, and a call for evacuation. This information and more is accessible by simply pushing a single button." Said Mr. House.

By September 2002, the Draeger AirBoss PLUS® NFPA SCBA will include a new heads-up display system called PRISM and new RIC (Rapid Intervention Coupling) that will comply with the new NFPA standards to be introduced later this year.

Draeger Safety, Inc. is the only company to offer fire fighters a complete range of breathing apparatus that will supply from 10 minutes through to 4-hour air duration for evacuation and emergency recovery work. The company continues to supply respiratory protection for both industrial workers and firefighters in the USA for well over 100 years.

Draeger Safety, Incorporated in Pittsburgh, PA is part of the Draegerwerk, AG group of companies servicing the Safety, Medical, Aerospace, Diving and Computer Information Systems markets. Located in Luebeck, Germany, Draegerwerk, AG employs more than 8,500 people worldwide and has production, sales and distribution facilities located in over 100 countries.

Draeger Safety, Incorporated US headquarters and manufacturing facility are located in Pittsburgh, PA and employ approximately 200 people. Established in 1976, Draeger Safety, Inc. is the largest of Draegerwerk AG's subsidiaries worldwide concentrating in the areas of Gas Detection, Respiratory Protection, Diving and Service. Draeger Safety maintains satellite sales offices, in Houston, TX; Durango, CO; Los Angeles, CA; and Mexico City. Wesley J. Kenneweg serves as president and CEO and has been with the Draeger organization since 1983.

Principal Product Lines include:

-Electronic gas detection measuring and monitoring instruments and systems

-Self-contained breathing apparatus

-Disposable, half-mask and full-face mask filters

-Electro-chemical and infrared sensor engineering and manufacturing

-Draeger Tubes and Draeger CMS spot measurement gas & vapor sampling

-Underwater semi-closed circuit rebreathers

-Filter and oxygen generating self-rescuers

-Emergency escape breathing apparatus

-Supplied air respirators and systems

-Breathalyzer Products
More from Electrical Equipment & Systems