Low-Profile LED Lamps promote application versatility.
Press Release Summary: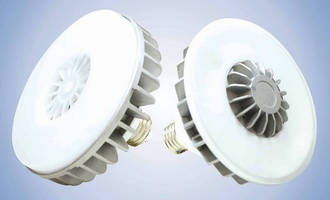 Fully dimmable (down to 10%) 17 W LED lamps, Pancake and Eclipse, come in 100° and 90° beam angles for general lighting applications. Available in standard E26 Edison screw-in and GU24 pin bases, 5 in. dia Eclipse comes in 2.8 in. (GU24) and 3.8 in. (E26) lengths. Pancake, with same diameter, comes in 2.6 in. (GU24) and 3.25 in. (E26) lengths. Both are constructed with solid aluminum body and offered in 3000K, 4100K, and 5000K CCT, with corresponding outputs of 1,000, 1,125, and 1,300 lm.
---
Original Press Release:
MaxLite Unveils Two Low Profile High Performance LED Lamps that Enable Versatility in a Variety of Applications
West Caldwell, New Jersey--- MaxLite® introduces two new high-performance non-typical LED lamps that enable versatility in a variety of applications: Pancake and Eclipse. The 17-watt dimmable Pancake and Eclipse are offered in 100- and 90-degree beam angles for general lighting applications. MaxLite is a leading global manufacturer and marketer of the award-winning MaxLED® line of innovative LED luminaires and lamps. Pancake features a breakthrough optical design that produces ambient backlight, and is the first reflector-style LED product to evenly illuminate decorative glass in pendants and torchieres. Eclipse features an exposed heat sink that allows for 10 percent cooler running temperatures and offers a center beam angle with 20 percent more intense projected light, making this lamp ideal for 6-inch recessed can and downlight applications in ceilings. Available in standard E26 Edison screw-in and GU24 pin bases, Eclipse is 5 inches in diameter and 2.8 inches long (GU24) or 3.8 inches long (E26), while the Pancake is 5 inches in diameter and 2.6 inches long (GU24) or 3.25 inches long (E26). Their compact form and industry leading thermal design enable the bulbs to provide superior solutions for lighting applications in commercial, residential, architectural and OEM markets.
Recessed Cans - Eclipse is appropriate for shallow and standard 6-inch housings from most leading manufacturers.
Torchieres - Pancake's LED engine offers six times the efficiency of standard halogen light sources, without sacrificing equivalent light distribution and color temperature.
Sconces - Pancake's low-profile construction allows installation in fixtures with tight space constraints, such as ADA-compliant sconces.
Fan Light Kits - A wide variety of color temperatures make Eclipse and Pancake the perfect light source solutions for ceiling fan applications.
Low-Profile Fixtures - Pancake and Eclipse were designed to facilitate the adaption of LED technology by OEM fixture manufacturers. The GU24- and Edison-base (standard) lamps are ideal for fixtures for use in new construction and retrofit projects.
Pendant Lighting - Low-heat emissions make Eclipse and Pancake the ideal solution for kitchen island lighting and other task and ambient lighting applications for an energy-conscious consumer. "Pancake and Eclipse represent a new trend in lamps, creating a non-standard focus that takes better advantage of LED technology," explains MaxLite Director of Product Marketing Pat Treadway. "The long life, higher output and lower operating temperatures are all results of this new series for MaxLite." Part of the MaxLED family of products, these high-performance lamps are designed with a low profile and constructed with industry-leading certified LM-80-rated LEDs for long-lasting performance of up to 50,000 hours at LM-70 standards, which exceeds most LED PAR lamps by 10,000 to 15,000 hours. Pancake and Eclipse are constructed with a solid aluminum body and engineered with a patent-pending heat sink that provides massive thermal heat conductivity, resulting in cool operation, high lumen maintenance and increased life. Unlike traditional PAR lamps designed with the driver mounted behind the light source, MaxLite's durable and robust LED lamps feature Component Isolation Technology(TM), a mid-engine approach that places the driver in an isolated and ventilated heat-sinked center section of the bulb, allowing the driver to sustain cooler temperatures than traditional lamps. This patented technology offers a minimum overall length (MOL) design with increased surface area to keep the lamp operating at a low temperature and providing a high lumen output, not previously possible with standard PAR lamps. Both the Pancake and Eclipse LED lamps are fully dimmable down to 10 percent, and offered in 3000K, 4100K and 5000K correlated color temperatures (CCT), with corresponding lumen output at 1000, 1125 and 1300 respectively; 5000K CCTs are not available on GU24 models. Pancake and Eclipse are ETL- and cETL-listed and RoHS compliant and backed by MaxLite's 5-year limited product warranty. For hi-res images, please visit www.maxlite.com/PDFs/PR/PRkit/ML.Pancake_Eclipse.jpg.zip. For spec sheets, visit www.maxlite.com/PDFs/FocusSheets/Pancake.datasheet.4-5.pdf and www.maxlite.com/PDFs/FocusSheets/Eclipse.datasheet.4-5.pdf. About MaxLite (www.maxlite.com) Inheriting global manufacturing and marketing expertise that dates back to 1955, MaxLite was one of the first movers into LED technology in the industry. Committed to energy efficiency as an ENERGY STAR® Partner of the Year in 2009, MaxLite established the MaxLED® brand, an extensive line of indoor and outdoor lighting fixtures featuring innovative LED luminaires and lamps using the latest state-of-the-art LED technology, ranging from the award-winning Flat Panel collection, to the best-selling outdoor lineup, plug-and-play light bars and lamps. Out of the company's two main distribution centers, conveniently located in West Caldwell, New Jersey and Rancho Cucamonga, California, MaxLite ships products within the continental United States within one to three days on standard orders. Through MaxLite's innovative research and development capabilities in its California office, MaxLite continues to be at the forefront of energy-efficient technologies. For more information about MaxLite and its products, call 800-555-5629, fax 973-244-7333, email info@maxlite.com, or tweet us at https://twitter.com/maxlitenewsroom.
More from Material Handling & Storage