Low-Profile, High Density Interposers provide design flexibility.
Press Release Summary: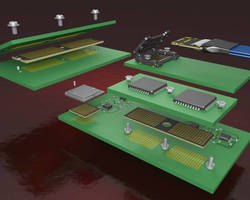 Used as interposers or integrated into connector housings, Z-Ray™ 0.80 mm pitch, one-piece compression contact arrays offer 28+ Gbps performance. ZA8 Series, available with choice of dual compression contacts or single compression with solder balls, has up to 400 total BeCu micro-formed contacts and features 25 g normal force with .008 in. contact deflection. Available in customizable shapes and patterns, products are optimized for density, X/Y/Z axis flexibility, and cycle life.
---
Original Press Release:

Z-Ray(TM) Ultra Low Profile, Ultra High Density Interposers Provide Ultimate Design Flexibility Now Available



Samtec®'s newly released Z-Ray™ one piece arrays are ultra-low profile, high density and highly customizable. These compression contact arrays are used as interposers or integrated into connector housings. Compared to standard interposers, they feature greater density, X-Y-Z axes flexibility, customizable shapes and patterns, increased cycle life, low normal force with high deflection range and 28+ Gbps performance.



These 0.80 mm pitch arrays

(ZA8 Series) are available with choice of dual compression contacts or single compression with solder balls. With up to 400 total BeCu micro-formed contacts, they feature low 25 g normal force with .008" (0.20 mm) contact deflection. Z-Ray™ is a one piece design assembled into rugged low profile single layer FR4 substrate under high pressure and temperature to achieve a 1.00 mm stack height. Screw down and alignment holes are standard for use with press fit alignment hardware for a secure connection without over compression between the PCB boards. A 34 AWG twinax cable on 0.80 mm pitch with 8 and 16 pairs standard is in development.



A variety of custom capabilities are available including the overall shape of the interposer, multiple pitches as low as 0,65 mm, greater density of up to 1,200 contacts per square inch in any pattern and stack heights from 0.50 mm to 4 mm. Construction of the interposer is customizable with multi-layer FR4, for example: pitch spreaders and other embedded interconnect circuitry. Design flexibility also includes features such as latches, thermal spreaders and quick-release spring constraints for more rugged applications. Quick-turn customizations are available and require minimal NRE and tooling charges.



To request a high resolution image for print, please contact: PR@samtec.com.



For product specifications, see samtec.com or click here for more Ultra Low Profile Interposers.



Samtec, Inc.,

P.O. Box 1147,

New Albany, IN 47151-1147 USA

Phone: 1-800-SAMTEC-9 (800-726-8329)

www.samtec.com

Email:

Asia: singapore@samtec.com

Australia: australia@samtec.com

France: france@samtec.com

Germany: germany@samtec.com

United States: info@samtec.com

United Kingdom: scotland@samtec.com

More from Sensors, Monitors & Transducers