DC to AC Power Supplies (Inverters)
Low-Profile CCFL Inverters have wide input voltage range.
Press Release Summary: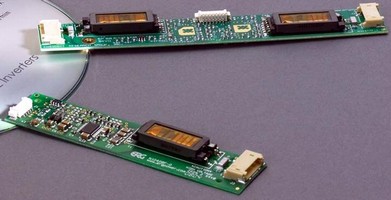 Available in single- and dual-lamp versions, Smart Force(TM) SFW Series dc-to-ac inverters are designed for display backlighting applications that require wide range dimming, lamp current stability over wide input range (8-18 V), and full RoHS compliance. Intelligent power solutions, at less than 6 mm high, offer open lamp detection, onboard PWM dimming, and lamp current regulation. They can be used in 5.7-12.1 in. LCDs (single-output) or 6.4-15 in. LCDs (dual output).
---
Original Press Release:

New Smart Force(TM) CCFL Inverters are Super Low-Profile with Wide Input Voltage and Wide Range PWM Dimming



Endicott, NY, March 2008 - The new SFW Series of DC-to AC inverters from display solutions specialist Endicott Research Group Inc, (ERG) are designed for display applications that require high efficiency, wide range dimming and lamp current stability over a wide input range, with full RoHS compliance.

The latest in ERG's Smart Force(TM) family of intelligent power solutions for display backlighting, and the first in ERG's new SFW Series of DC-to AC inverters, these inverters are feature rich, highly intelligent inverters with a wide input voltage range (8-18V), open lamp detection, onboard PWM dimming, and lamp current regulation. Available in single and dual-lamp versions, they feature an extremely low profile (< 6 mm high) and a ruggedized transformer that has helped these inverters test successfully at very wide range temperatures.

SFW inverters feature direct display connection, a start voltage of 1800 Vrms, and an operating temperature range of -30º to 70ºC. Two single-lamp versions are available: one with the JST output connector SM02(8.0) B-BHS-TB (SFWA160JF), and one with the JST SM02B-BHSS-1 (SFWA160J2F) connector.

The SFW inverters can be used in LCDs 5.7" to 12.1" diagonal in single output configurations and, in dual output configurations, they can be used in LCDs 6.4" to 15" diagonal for a wide variety of industrial LCD applications.

The single-lamp version of the SFW Series (P/N SFWA160JF) is a drop-in replacement for TDK's CXA-L0612A-VJL DC/AC inverter, according to ERG Sales & Marketing Director Bill Abbott. "However, the SFW inverter offers a wider range of dimming and you don't have to wait 16 weeks for a production order," said Abbott. "ERG typically keeps the Smart Force Line of CCFL inverters in stock, and our pricing is extremely competitive."

ERG's new SFW Series inverters are available directly or from ERG's extensive distributor network. Pricing is $12.75 in 1,000-piece quantities for the SFWA160JF single-lamp inverter. Shipment is typically next day (stock) to 4 weeks A.R.O.

For more information, contact Endicott Research Group (ERG), Inc., 2601 Wayne St., Endicott, NY 13760, USA. Tel: 607-754-9187; (toll-free: 800-215-5866); Fax: 607-754-9255; ergpower.com; E-mail: [email protected].

About Endicott Research Group
Endicott Research Group (ERG) has been matching DC-AC inverters to CCFL backlit LCDs since 1979 for customers in the USA and around the world. The company recently introduced its new line of Smart Force(TM) LED driver boards and rails for OEMS who are transitioning from traditional CCFL backlights to LED backlights. ERG specializes in solutions for backlit displays, whether it's matching the right inverter to a CCFL-backlit LCD, upgrading customers' displays from CCFL to LED backlighting, or providing custom backlight power solutions that integrate easily with video controllers on the market today.