Low-Profile Belt Conveyors offer operational flexibility.
Press Release Summary: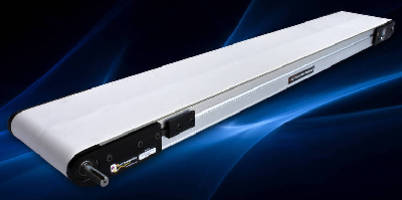 Pivot(TM) rotatable drive technology on Automation Series AS40 end drive conveyor allows drive to be rotated in field to almost any position, while AS65 center drive conveyor features below-belt drive that can be positioned at any point along its length. Push-button tension release accelerates belt changes/cleaning, and single-piece, extruded aluminum frame includes tee slots for accessory mounting. Available with 50+ belt styles, conveyors handle speeds to 400 fpm and loads to 120 lb.
---
Original Press Release:

QC Industries' New Automation Series Conveyors Offer Versatility, High Performance



Cincinnati, OH (February 9, 2009) - QC Industries will introduce their new Automation Series AS40 and AS65 low profile belt conveyors tomorrow at WestPack in Anaheim, California. Automation Series conveyors offer high speeds with a single-piece extruded aluminum frame and feature easy belt changes, unique rotatable drives and a movable center drive designed with maximum versatility in mind.

The unique Pivot(TM) rotatable drive technology on AS40 end drive conveyors allows the drive to be quickly rotated in the field to almost any position to meet changing application requirements and avoid conflicts with other machinery. AS65 center drive conveyors feature a below-belt drive that can be positioned at any point along the length of the conveyor, allowing a better fit with integrated machinery.

A simple, push-button tension release mechanism alleviates tension on the belt for fast, easy belt changes and under belt cleaning. A gentle push reseats the tension release mechanism with proper tension and tracking retained. The conveyors use sealed, deep-groove ball bearings.

The rigid, single-piece aluminum frame includes tee slots for rapid stand and accessory mounting. Conveyors 18" wide and wider feature a strengthened multi-piece aluminum and steel frame. A wide variety of sides, guides, stands and accessories are available. Drive packages include DC and AC motors in both standard- and heavy-duty models with a vari ety of mounting options. Automation Series conveyors are extremely efficient, requiring very little torque beyond the initial load at startup.

A crowned pulley ensures proper belt tracking. V-Guide belts are available for applications that require it - such as reversing and side discharging - without changing any conveyor components. More than 50 belt styles are available, ranging from multi-purpose and accumulation belts to anti-static and color contrasting specialty belts.

Automation Series conveyors are designed to handle high speeds up to 400 feet per minute. They handle loads up to 120 lbs. Widths are available in increments from 2" to 24" and lengths from 18" to 13' for single-piece frames and 14' to 25' for multi-piece frames. They feature a low 1.95" profile. Their modular design allows the conveyor to be easily extended or shortened as application requirements change. As with all QC Industries conveyors, Automation Series conveyors feature a Five Year Warranty.

More information about Automation Series conveyors is available online at www.qcindustries.com/automation-series.

QC Industries' low profile belt conveyors are used in a wide variety of applications including packaging, automation, assembly, medical product and device manufacturing, material handling, manufacturing, and more.

Privately held QC Industries is based in a state-of-the-art 55,000 square foot facility located in Cincinnati, Ohio and is proud to be a lean manufacturer that has been a leading manufacturer of low profile conveyors since 1981. For more information on QC Industries products or services, visit them online at www.qcindustries.com. You may also reach them via e-mail at sales@qcindustries.com, via phone at (513) 753-6000, or through the mail at QC Industries LLC, 4057 Clough Woods Drive, Cincinnati, OH 45103.

More from Materials