Low-Profile Belt Conveyor offers tension release mechanism.
Press Release Summary: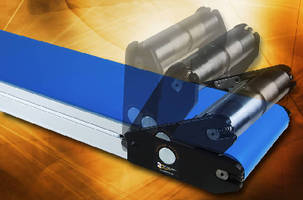 Automation Series incorporates Tension Release Tail, which facilitates and accelerates belt changes and under-belt cleaning. With one push of button, Tension Release Tail relieves tension on belt by flipping up and out of the way. No tools are required, and tail reseats with gentle push to reapply original tension. This feature, standard on all Automation Series conveyors, is also compatible with all QC Industries' side rails and guides as well as flat and v-guided belts.
---
Original Press Release:

New Tension Release Tail Offers Fast, Easy Belt Changes



Cincinnati, OH (March 9, 2009) - QC Industries new Automation Series low profile belt conveyors feature a first of its kind Tension Release Tail that makes belt changes and under-belt cleaning fast and easy.

QC Industries' Tension Release Tail operates at the push of a button to relieve tension on the belt by quickly flipping up and out of the way. No tools are required, making it easy for an operator to release the tension for cleaning under the belt. The tail reseats, reapplying tension, with a gentle push.

Belt changes are simplified; in many cases the belt can be removed and replaced without tools. This feature reduces downtime and maintenance expenditures.

Unlike competing conveyors, the unique design of the Tension Release Tail retains all tension and tracking adjustments when tension is relieved and reapplied. To relieve tension in competing conveyors, the same adjustments used for tension and tracking must be undone, requiring them to be readjusted each time tension is reapplied. QC Industries' Tension Release tail uses a completely separate mechanism for relieving the tension than it uses for making tension and tracking adjustments.

The Tension Release Tail is standard on all Automation Series conveyors, including AS40 End Drive and AS65 Center Drive conveyors. It is compatible with all standard QC Industries side rails and guides and with both flat and v-guided belts.

QC Industries' low profile belt conveyors are used in a wide variety of applications including packaging, automation, assembly, medical product and device manufacturing, material handling, manufacturing, and more.

Privately held QC Industries Conveyors is based in a state-of-the-art 55,000 square foot facility located in Cincinnati, Ohio and is proud to be a lean manufacturer that has been a leading manufacturer of low profile belt conveyors since 1981. For more information on QC Industries' products or services, visit them online at www.qcindustries.com. You may also reach them via e-mail at sales@qcindustries.com, via phone at (513) 753-6000, or through the mail at QC Industries Conveyors, 4057 Clough Woods Drive, Cincinnati, OH 45103.

For more information please contact: Chris Thompson, Marketing Coordinator - (513) 388-4820 or Chris Round, Marketing Manager - (513) 388-4840.

More from Electrical Equipment & Systems