Low-Profile Battery Connectors facilitate vertical mating.
Press Release Summary: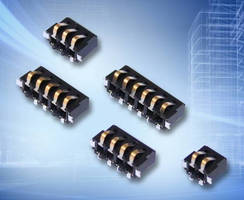 Available with 2–6 positions and compatible with signal and power circuits, 2 mm pitch 9155-800 Series prevents end-user damage to contacts in electronic devices with pluggable modules that mate vertically with base unit. Gold-plated beryllium copper (BeCu) contacts retain electrical and mechanical performance over 5,000+ mating cycles. Products are rated for 125 Vac, 1.5 or 2 A depending on the number of positions (5–6 and 2–4, respectively) and operate from -40 to +125°C.
---
Original Press Release:

AVX Releases New 2mm-Pitch Vertical-Mate Battery Connectors for Consumer, Medical, Industrial, and Harsh Environment Applications



Especially designed to prevent end-user damage to the contacts in electronic devices with pluggable modules that vertically mate with a base unit, the new 9155-800 Series connectors deliver excellent electrical & mechanical performance for 5,000+ mating cycles



FOUNTAIN INN, S.C. – AVX Corporation, a leading manufacturer of passive components and interconnect solutions, has released a new series of low profile battery connectors especially designed to prevent end-user damage to the contacts in electronic devices with pluggable modules that vertically mate with a base unit. The new 9155-800 Series vertical-mate, 2mm-pitch battery connectors feature ultra robust and reliable gold-plated beryllium copper (BeCu) contacts that deliver excellent electrical and mechanical performance for more than 5,000 mating cycles, in addition to a unique contact geometry designed to deflect cleanly and easily when a module or mating connector is vertically pushed into position.



The unique contact geometry of the 9155-800 Series allows for full vertical engagement in pluggable module applications, the contact tip incorporates an anti-snag feature to protect the contacts during deflection, and plastic locating bosses and SMT anchor tabs maximize the mechanical stability of the connector in harsh conditions. These features, combined with the superior performance of the BeCu contacts, effectively eliminate the potential for end-users to inadvertently damage the contacts in a variety of consumer, medical, industrial, and harsh environment applications, including: handheld and portable devices that require docking or cradling, patient monitoring devices, portable medical electronics, Internet appliances with battery backups, and industrial devices that utilize pluggable or programmable modules.



"Traditional battery connectors with right-angle contact geometries require pluggable modules to be inserted at an angle and then rotated down into position," said Tom Anderson, connector product manager, AVX. "Although seemingly insignificant, the additional step required to successfully mate these connectors increases the potential for miss-mating by half. So, since exposed contacts in battery charging and other similar applications can be damaged by miss-mating, we designed our new 9155-800 Series battery connectors to vertically mate without any additional alignment, and to be both compact and electrically flexible enough to provide a broad range of electronic devices with improved connector solutions."



Compatible with both signal and power circuits, 9155-800 Series vertical-mate, 2mm-pitch battery connectors are available with two to six positions, and are rated for 125VAC; 1.5A or 2A, depending on the number of positions (five and six or two to four, respectively); and operating temperatures spanning -40°C to +125°C. The RoHS-compliant series features black, glass-filled Nylon 46 (UL94V0) insulators, and BeCu contacts with either 0.4µm or 0.8µm gold-over-nickel plating and pure tin tails. Parts are shipped in quantities of 1,000 on 330mm-diameter reels, and lead-time for the series is nine weeks.



For more information about AVX's new 9155-800 Series vertical-mate, 2mm-pitch battery connectors, please visit http://www.avx.com/products/connectors/specialty/vertical-mate-2-0mm-pitch-9155-800/. For further information about these or other AVX connector products, please contact AVX Connector Product Manager, Tom Anderson, at tom.anderson@avx.com or 864-228-3421. For all other inquiries, please visit www.avx.com, call 864-967-2150, or write to One AVX Boulevard, Fountain Inn, S.C. 29644.



About AVX

AVX Corporation is a leading international supplier of electronic passive components and interconnect solutions with 20 manufacturing and warehouse facilities in 11 countries around the world. AVX offers a broad range of devices including capacitors, resistors, filters, timing and circuit protection devices, and connectors. The company is publicly traded on the New York Stock Exchange (NYSE:AVX).



A member of the Kyocera Group since 1990, AVX is also the only company authorized to supply Kyocera Electronic Devices to the Americas and Europe. Established in 1959 and based in Kyoto, Japan, Kyocera Electronic Devices is a leading international supplier of connectors, capacitors, ceramic resonators, surface acoustic wave (SAW) filters and duplexers, and crystal oscillators and timing devices.



For more information, contact:

Tom Anderson

Connector Product Manager, AVX

864-228-3421

tom.anderson@avx.com



Christine Stieglitz

PR Executive, BtB Marketing

919-872-8172

christine.stieglitz@btbmarketing.com

More from Sensors, Monitors & Transducers