Low-Power HDMI Transmitter IC brings HD video to home theaters.
Press Release Summary: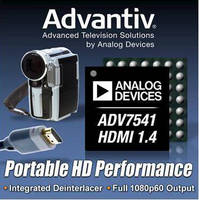 Featuring HDMI® Version 1.4 Specification support for color spaces, Advantiv® ADV7541 transmitter converts 480i/p and 1080i interlaced output into progressive 1080p format. It includes deinterlacer, consumer electronics control, level shifters, and MCU in 3.75 x 3.75 x 0.65 mm package. Unit also provides audio support of S/PDIF for compressed audio, including Dolby Digital® and DTS®, and 2-channel I2S audio for transmitting stereo at sample rates up to 192 kHz.
---
Original Press Release:

Ultra Low-Power Transmitter Incorporates HDMI® Technology and Enables Portable Multimedia Designs to Deliver Flawless HD Video for Home Entertainment Systems



- ADI's Advantiv® ADV7541 transmitter with de-interlacer offers HDMI® Version 1.4 Specification's expanded support for color spaces, 1080p HD performance, remote control connectivity and longer battery life for video and camera designs.

Norwood, MA - Analog Devices, Inc. (ADI) introduced today the release of the industry's smallest, lowest power transmit IC with integrated de-interlacer and on-chip CEC (consumer electronics control) incorporates High-Definition Multimedia Interface® (HDMI®) technology and enables small, low-cost multimedia devices to provide flawless HD (high definition) video performance and easy connectivity. Offering HDMI® Version 1.4 Specification's expanded support for color spaces, the 150-MHz, Advantiv® ADV7541 ultra low-power transmitter with de-interlacer converts 480i/p and 1080i interlaced output into a progressive 1080p format, enabling portable multimedia devices to provide full HD resolution to home theater systems. Offering 150 times less standby power and a ten percent smaller footprint (3.75 mm × 3.75 mm × 0.65 mm) than competing offerings, the ADV7541 extends ADI's Advantiv advanced TV solutions portfolio to ultra-slim, low-power designs, including digital still and DSLR cameras, camcorders, gaming consoles, media players, and mobile devices.

"As the world's smallest and thinnest low-power transmitter with de-interlacer, the ADV7541 incorporates HDMI technology and provides designers with a complete solution for 1080p video and audio transmission on mobile devices," said George Diniz, product line manager, video transmitter product line, Analog Devices. "By delivering interlaced-to-progressive video conversion for both 480i and 1080i video formats, the ADV7541 offers designers a complete solution to bridge the gap between handheld multimedia designs and high definition 1080p home entertainment systems."

The highly-integrated ADV7541 integrates the de-interlacer, CEC controller, level shifters and microcontroller, enabling designers to accelerate the CEC and HDMI development process, lower development and manufacturing costs, and decrease time-to-market. In addition to reducing power consumption and footprint, and eliminating external memory requirements, the ADV7541 enables engineers to develop lower power designs that can use smaller, lighter batteries at lower cost.

Validated through successful compliance testing, the ADV7541 is pin- and software-compatible with previous video products, including the ADV7521NK low-power transmitter and ADV7524 low-power transmitter with CEC, and incorporates the industry's leading connectivity standards including HDMI Technology. The ADV7541 provides complete audio support of S/PDIF (Sony/Philips digital interface format) for compressed audio, including Dolby Digital® and DTS®; and 2-channel I2S audio for transmitting stereo at sample rates up to 192 kHz. With the optional inclusion of embedded support for HDCP 1.3 (high-bandwidth digital content protection) processing, the transmitter allows the secure transmission of protected content.



Availability, Pricing and Complementary Products 




Product	 Availability	 Price Each Per 1,000 	Packaging 

ADV7541  Now      $4.97         3.75 mm × 3.75 mm × 0.65 mm 49-ball, WLCSP 



The ADV7541 complements other Analog Devices video transmitter components, including the ADV7390/1/2/3 low-power, chip-scale 10-bit SD/HD video encoder and ADV7123 and ADV7125 triple high-speed video DACs (digital-to-analog converters).
For more information about the ADV7541 HDMI 1.4 transmitter, please visit www.analog.com/pr/ADV7541 and www.analog.com/audio-video-products.

About Analog Devices

Innovation, performance, and excellence are the cultural pillars on which Analog Devices has built one of the longest standing, highest growth companies within the technology sector. Acknowledged industry-wide as the world leader in data conversion and signal conditioning technology, Analog Devices serves over 60,000 customers, representing virtually all types of electronic equipment. Celebrating over 40 years as a leading global manufacturer of high-performance integrated circuits used in analog and digital signal processing applications, Analog Devices is headquartered in Norwood, Massachusetts, with design and manufacturing facilities throughout the world. Analog Devices' common stock is listed on the New York Stock Exchange under the ticker "ADI" and is included in the S&P 500 Index.

Advantiv is a registered trademark of Analog Devices, Inc. All other trademarks are the property of their respective owners.

HDMI, the HDMI Logo, and High-Definition Multimedia Interface are trademarks or registered trademarks of HDMI Licensing LLC in the United States and other countries.

Subscribe to ADI's News Feed.

Follow ADI on Twitter at www.twitter.com/ADI_News.


More from Controls & Controllers