Low-Power Active Mixer offers 10 kH to 4 GHz bandwidth.
Press Release Summary: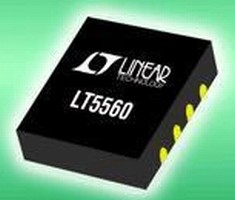 Suited for portable or fixed wireless systems, LT5560 can be configured as up- or downconverting mixer. It incorporates double-balanced mixer core design, and Local Oscillator port can be driven with single-ended, low level input from -6 to +1 dBm. When configured as 900 MHz downconverting mixer at nominal supply current of 10 mA, product offers IIP3 of +9.7 dBm, noise figure of 10.1 dB, and conversion gain of 2.6 dB. Product also exhibits -55 dBc port-to-port RF isolation.
---
Original Press Release:

Low Power Active Mixer Offers Wide Bandwidth to 4GHz



MILPITAS, CA - May 8, 2006 - A new high performance mixer from Linear Technology features low power consumption and the capability of operating from low frequency up to 4GHz. The LT5560 can be configured either as an up- or a downconverting mixer, providing flexibility for a wide range of high performance portable or fixed wireless systems, including public-safety handheld radios, WiMAX transceiver modems, handheld RFID readers, VHF/UHF transceivers, wireless headphones and professional microphones, GSM/EDGE basestations and repeaters, satellite receivers, ISM band radios, and portable RF instrumentation.

When configured as a 900MHz downconverting mixer at a nominal supply current of 10mA, the LT5560 offers high IIP3 of +9.7 dBm and a noise figure of 10.1 dB. This performance is complemented by high conversion gain of 2.6 dB. Moreover, the device exhibits exceptionally high port-to-port RF isolation in the range of -55 dBc.

The LT5560 incorporates a double-balanced mixer core design to maximize linearity and RF isolation. The LO (Local Oscillator) port can be driven with a single-ended, low level input in the range of -6 to +1dBm. Additionally, the signal input port incorporates an input buffer, providing excellent LO-to-INPUT isolation while boosting conversion gain.

The LT5560 operates from a single supply with wide operating voltage range from 2.7V to 5.25V. Nominal quiescent current is 10mA with all parameters specified at this current. However, the LT5560's supply current may be adjusted from as low as 4mA up to 13.5mA by a single external resistor, thus trading power dissipation for linearity performance. Moreover, the device can be shut down by an ENABLE pin. When disabled, the chip typically draws 0.1 uA quiescent current to conserve power.

The LT5560 is offered in a small footprint 8-pin 3mm x 3mm surface mount DFN package. Pricing starts at $1.56 each in 1,000-piece quantities. It is available immediately from stock.

Summary of Features: LT5560
Frequency Range: 10kHz to 4GHz
Supply Current: 10 mA

Input IP3 @ 900MHz: +9.7 dBm
Noise Figure: 10.1 dB
Conversion Gain: 2.6 dB

LO-to-INPUT Leakage: -57 dBm

4GHz Low Power Mixer

About Linear Technology
Linear Technology Corporation, a manufacturer of high performance linear integrated circuits, was founded in 1981, became a public company in 1986 and joined the S&P 500 index of major public companies in 2000. Linear Technology products include high performance amplifiers, comparators, voltage references, monolithic filters, linear regulators, DC-DC converters, battery chargers, data converters, communications interface circuits, RF signal conditioning circuits, and many other analog functions. Applications for Linear Technology's high performance circuits include telecommunications, cellular telephones, networking products such as optical switches, notebook and desktop computers, computer peripherals, video/multimedia, industrial instrumentation, security monitoring devices, high-end consumer products such as digital cameras and MP3 players, complex medical devices, automotive electronics, factory automation, process control, and military and space systems. For more information, visit www.linear.com.

LT, and LTC are registered trademarks of Linear Technology Corp.

Contacts

North America and General Information
John Hamburger
Tel: (408) 432-1900 ext. 2419
jhamburger@linear.com

Doug Dickinson
Tel: (408) 432 1900 ext. 2233
ddickinson@linear.com

More from Electronic Components & Devices