Low-PIM-Rated Products address DAS network applications.
Press Release Summary: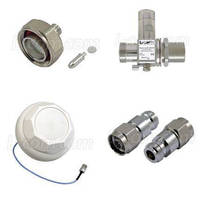 Adapters, connectors, surge protectors, and ceiling-mount antennas, used to provide PIM (Passive Intermodulation) protection and performance to meet mobile device data rate and video streaming demands on DAS and LTE/4G bands, meet low-PIM standards with ratings of < -160 dBc or < -150 dBc. These products are specifically designed for in-building wireless systems, such as distributed antenna systems (DAS) networks, used to distribute cellular and Wi-Fi signals throughout building or area.
---
Original Press Release:

L-com Introduces Low-PIM-Rated Products for DAS Networks



NORTH ANDOVER, Mass. - L-com Global Connectivity, a preferred manufacturer of wired and wireless connectivity products, announced today that it has launched a series of low-PIM-rated products to address DAS network applications.



Passive Intermodulation (PIM) is a type of signal interference that degrades the quality of wireless communication systems. PIM can significantly impact performance and reduce download speeds of distributed antenna systems (DAS) and LTE networks that support wireless devices. Using low-PIM-rated components when designing and deploying a DAS or LTE network can help to ensure the best performance and lessen the effects of PIM.



L-com's low-PIM-rated products are specifically designed for in-building wireless systems such as DAS networks which are used to distribute cellular and Wi-Fi signals throughout a building or area. This series of products includes adapters, connectors, surge protectors and high-performance ceiling-mount antennas.



"L-com's low-PIM-rated products provide superior PIM protection and performance to meet the increasing demand for higher data rates and video streaming for mobile devices on DAS and LTE/4G bands," said Ken Burgner, Product Manager.



L-com's series of low-PIM-rated products meet the most demanding low-PIM standards with ratings of < -160 dBc or < -150 dBc.



For more information about this release, please contact:

Peter McNeil, Marketing Manager

978-682-6936 x1174, mailto:pmcneil@l-com.com



About L-com Global Connectivity:

L-com Global Connectivity, a preferred manufacturer of wired and wireless connectivity products, offers a wide range of solutions and unrivaled customer service for the electronics and data communications industries. The company's product portfolio includes cable assemblies, connectors, adapters, computer networking components, and custom products, as well as their HyperLink? brand of wireless products which include antennas, RF amplifiers, coaxial lightning and surge protectors, and NEMA rated enclosures. L-com's HyperLink? wireless products are designed for WiFi, WiMAX, SCADA, 802.11a/b/g/n/ac, RFID and Bluetooth applications. In addition to HyperLink? , L-com's other brands include MilesTek?, specialists in Military/Aeronautics connectivity solutions and Aiconics?, a leading manufacturer of electrical connector products.  Trusted for more than 30 years, L-com, which is headquartered in North Andover, Mass., is ISO 9001: 2008 certified and many of its products are UL? recognized. For more information, please visit:  http://www.L-com.com/

More from Fluid & Gas Flow Equipment