Low Noise Wideband Amplifier operates from DC-50 GHz.
Press Release Summary: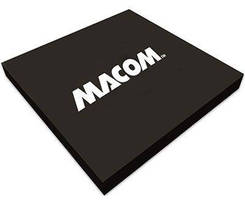 Measuring 1.97 x 1.30 x 0.1 mm, Model MAAM-011109-DIE provides 50 Ω matching and typical return losses better than 15 dB. Solution includes gate bias adjust to change current setting for power or temperature, gain trim that allows 15 dB of gain control, and temperature-compensated power detector that provides DC voltage in relation to output power. With up to +23 dBm of saturated power, amplifier is suited for broadband applications such as test and measurement and electronic countermeasures.
---
Original Press Release:

MACOM Introduces Industry Leading DC-50 GHz Wideband Amplifier



Featuring up to +23dBm of Saturated Power and 15 dB of Gain



Lowell, Mass — M/A-COM Technology Solutions Inc. ("MACOM"), a leading supplier of high-performance RF, microwave, millimeterwave and photonic products, today introduced the MAAM-011109-DIE, a wideband amplifier boasting an operating frequency range of DC-50 GHz. The MAAM-011109-DIE provides customers with 50 Ohms matching and typical return losses better than 15 dB. This user friendly amplifier is a high-performance, low noise solution for customers seeking a very wideband, fully matched amplifier solution.



Features of the MAAM-011109-DIE include gate bias adjust to change current setting for power or temperature, gain trim control that allows 15 dB of gain control (0 to -1 V) and a temperature-compensated power detector that provides a DC voltage in relation to the output power.



"The wideband performance of the MAAM-011109-DIE makes it an optimal solution for broadband applications such as Test and Measurement and Electronic Countermeasures," said Paul Beasly, Product Manager, MACOM. "The DC-50 GHz operation, adjustable bias control for power and gain and low noise performance make the device a highly versatile solution for multiple wideband applications."



This die product features gold-plated contact pads on its backside and a size of 1.97 x 1.30 x 0.1 mm.



The table below outlines typical performance for the MAAM-011109-DIE:


| | | |
| --- | --- | --- |
| Parameter | Units | MAAM-011109-DIE |
| RF Frequency | GHz | DC-50 |
| Gain | dB | 15.5 |
| Isolation | dB | 22 |
| Input Return Loss | dB | 15 |
| Output Return Loss | dB | 15 |
| Noise Figure | dB | 3.5 |
| P1dB | dBm | 20 |



Production quantities and samples of MAAM-011109-DIE are available from stock. Final datasheets and additional product information can be obtained from the MACOM website at: www.macom.com.



ABOUT MACOM:

M/A-COM Technology Solutions Holdings, Inc. (www.macom.com) is a leading supplier of high-performance RF, microwave, and millimeterwave and photonic products that enable next-generation Internet and modern battlefield applications. Recognized for its broad catalog portfolio of technologies and products, MACOM serves diverse markets, including high speed optical, satellite, radar, wired and wireless networks, automotive, industrial, medical, and mobile devices.  A pillar of the semiconductor industry, we thrive on more than 60 years of solving our customers' most complex problems, serving as a true partner for applications ranging from RF to Light.



Headquartered in Lowell, Massachusetts, MACOM is certified to the ISO9001 international quality standard and ISO14001 environmental management standard. MACOM has design centers and sales offices throughout North America, Europe, Asia and Australia.



MACOM, M/A-COM, M/A-COM Technology Solutions, M/A-COM Tech, Partners in RF & Microwave, Partners from RF to Light, The First Name in Microwave and related logos are trademarks of MACOM. All other trademarks are the property of their respective owners.



For more information about MACOM, please visit www.macom.com follow @MACOMtweets on Twitter, join MACOM on LinkedIn, or visit the MACOM YouTube Channel.



FOR SALES INFORMATION, PLEASE CONTACT:

North Americas -- Phone: 800.366.2266

Europe -- Phone: +353.21.244.6400

India -- Phone: +91.80.43537383

China – Phone: +86.21.2407.1588



MEDIA CONTACTS:

Ozzie Billimoria

M/A-COM Technology Solutions Inc.

978-656-2896

ozzie.billimoria@macom.com

More from Cleaning Products & Equipment