Low-Noise Modular Chain Conveyor allows quick planning, assembly.
Press Release Summary: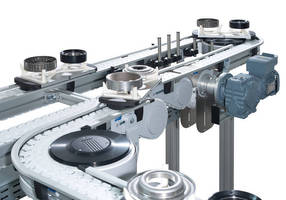 Targeting food, packaging, and healthcare fields, VarioFlow plus is constructed of FDA-compliant materials. Sliding bars with lateral fixation, low-friction materials, and hinge bolts enable low-noise operation, while optimum sliding properties reduce wear even with chain tensile forces up to 1,250 N. Available with track widths from 65–320 mm, modular solution has built-in drainage surfaces and comes in stainless steel and aluminum universal versions.
---
Original Press Release:

Modular Conveyor System for Quick Assembly



The VarioFlow plus modular chain conveyor system allows for quick planning and assembly and offers economical, low-noise operation.



Charlotte, NC – www.boschrexroth-us.com/VarioFlow Noise reduction is attracting increasing attention to continuously improve factory work environments. VarioFlow plus is one of Bosch Rexroth's major contribution to noise reduction, with particularly low-noise operation thanks to sliding bars with lateral fixation, low-friction materials and patented hinge bolts. At the same time, VarioFlow plus provides optimum sliding properties for reduced wear, even with chain tensile forces up to 1,250 Newtons.



An example of VarioFlow plus's flexible application can be found in the automotive industry: In order to improve handling and save space during transport, an innovative manufacturing cell based on VarioFlow plus is able to convey roof linings at a height of approx. three meters directly to a robotic unit at a processing station. Attaching and uncoupling the finished roof linings are the only manual procedures required in this fully automated solution. This results in increased productivity as factory personnel may use these time savings to complete other tasks. Currently, this automotive manufacturer operates four complete manufacturing lines using the same application of VarioFlow plus.



In combination with the innovative MTpro planning software, VarioFlow plus saves considerable time during project planning. The complete conveyor system can be designed in just a few steps – all the way from "drag and drop" selection of components to order placement, including verification of workpiece carriers and complete system configuration.



The advantages of VarioFlow plus continue once the system has been delivered. Start-up and commissioning are incredibly easy with this user-friendly modular system. Standardized components make the system exceptionally easy and fast to assemble, and ensure functionally safe operation.



About Bosch Rexroth

Economical, precise, safe, and energy efficient: drive and control technology from Bosch Rexroth moves machines and systems of any size. The company bundles global application experience in the market segments of Mobile Applications, Machinery Applications and Engineering, Factory Automation, and Renewable Energies to develop innovative components as well as tailored system solutions and services. Bosch Rexroth offers its customers hydraulics, electric drives and controls, gear technology, and linear motion and assembly technology all from one source. With locations in over 80 countries, more than 33,700 associates generated sales revenue of approximately $7.4 billion (5.6 billion euros) in 2014. To learn more, please visit www.boschrexroth-us.com.



About Bosch

Having established a regional presence in 1906 in North America, the Bosch Group employs some 28,700 associates in more than 100 locations, as of April 1, 2015. In 2014, Bosch generated consolidated sales of $11.3 billion in the U.S., Canada and Mexico. For more information, visit www.boschusa.com, www.bosch.com.mx and www.bosch.ca.



The Bosch Group is a leading global supplier of technology and services. It employs roughly 360,000 associates worldwide (as per April 1, 2015). The company generated sales of $65 billion (49 billion euros) in 2014.* Its operations are divided into four business sectors: Mobility Solutions, Industrial Technology, Consumer Goods, and Energy and Building Technology. The Bosch Group comprises Robert Bosch GmbH and its roughly 440 subsidiary and regional companies in some 60 countries. Including its sales and service partners, Bosch is represented in roughly 150 countries. This worldwide development, manufacturing, and sales network is the foundation for further growth. In 2014, Bosch applied for some 4,600 patents worldwide. The Bosch Group's strategic objective is to create solutions for a connected life. Bosch improves quality of life worldwide with products and services that are innovative and spark enthusiasm. In short, Bosch creates technology that is "Invented for life." Additional information is available online at www.bosch.com and www.bosch-press.com, http://twitter.com/BoschPresse.



*The sales figure disclosed for 2014 does not include the former joint ventures BSH Bosch und Siemens Hausgeräte GmbH (now BSH Hausgeräte GmbH) and ZF Lenksysteme GmbH (now Robert Bosch Automotive Steering GmbH), which have since been fully acquired.



Contact for Journalists:

Bosch Rexroth Corporation

Susan Strauss

2315 City Line Road

Bethlehem, PA 18017

Telephone (610) 694-8352

Fax (610) 694-8352

susan.strauss@boschrexroth-us.com



Godfrey Public Relations

Todd Walter

40 North Christian Street

Lancaster, PA 17602

Telephone (717) 393-3831

Fax (717) 393-1403

twalter@godfrey.com

More from Packaging Products & Equipment