Low-Noise Bar Hole Purger finds gas leaks.
Press Release Summary: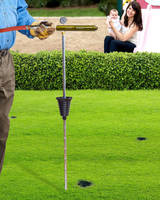 Used to search for underground natural gas leaks, BHP-375-G features self-cleaning venturi vacuum pump and integrated silencer atop 42 in. standpipe. Unit operates on 80 psi compressed air, runs at 85 dB, pulls 28 in. Hg vacuum, and has evacuation capacity of 28 ft³/min. Construction elements include twist claw coupling to ½ in. air line, ¼ turn ball valve, and stainless steel vacuum gauge with 2 in. dial face.
---
Original Press Release:

Bar Hole Purger Finds Gas Leaks Quietly



A new bar hole purger that features an integrated silencer to protect the operator and people nearby while searching for underground natural gas leaks is being introduced by Millibar, Inc. of Holliston, Massachusetts.



The Millibar BHP-375-G Bar Hole Purger provides an efficient and quiet way to search for underground natural gas leaks.  Featuring a self-cleaning venturi vacuum pump and integrated silencer atop a 42" standpipe, it runs

at a quiet 85 dB, pulls a 28" Hg vacuum, and is capable of evacuating 28 cu.ft./min.



Operating on 80 psi compressed air, the Millibar BHP-375-G Bar Hole Purger has a twist claw coupling to a 1/2" air line, a 1/4 turn ball valve, a stainless steel vacuum gauge with a 2" dial face.  This bar hole purger is much quieter than other models which typically exceed 120 dB.



The Millibar BHP-375-G Bar Hole Purger sells for $279.00, is made in the USA, and the venturi vacuum pump and silencer assembly is guaranteed for life.



For more information contact:

Millibar, Inc.

Brian Ferri, Marketing

72A Jeffrey Ave.

Holliston, MA 01746

(508) 488-9870

Email: bferri@millibar.com

www.barholepurger.com

More from Material Processing