Low-Jitter TCXO comes in rugged, hermetic, ceramic package.
Press Release Summary: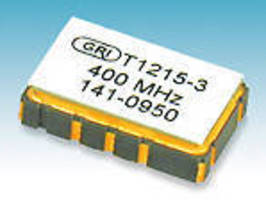 Measuring 9 x 7 x 2.8 mm, T1215 Series delivers consistent frequency control in high-shock and high-vibration environments. Acceleration sensitivity down to 5 x 10-10/g is available for optimal phase noise performance during vibration and acceleration. Supporting frequencies from 750 kHz to 800 MHz and offering choice of CMOS, LVPECL, or LVDS outputs, product operates from 3.3 or 5 V supply and utilizes miniature AT strip crystal for smooth and repeatable frequency performance.
---
Original Press Release:

Greenray's T1215 TCXO Offers High Performance in a Rugged, Hermetic Package



Mechanicsburg, PA - Greenray Industries, Inc. has announced the availability of the T1215 Series TCXO.

The T1215 measures 9mm x 7mm x 2.8mm and features a hermetic, ceramic package with ruggedized construction. It has been designed to deliver consistent, reliable frequency control performance in high shock and vibration environments.

Reduced acceleration sensitivity down to 5 x 10-10/g is available for improved phase
noise performance during vibration and acceleration.

The T1215 offers a wide range of available frequencies, from 750kHz to 800MHz,
and a choice of CMOS, LVPECL or LVDS outputs. Supply voltage is 3.3V or 5V. A miniature, high precision AT strip crystal enables extremely smooth and repeatable frequency performance over temperature and time. The total integrated jitter over 10kHz to 20MHz is less than 3pSec RMS with an 800MHz output. Military screening is available to MIL-PRF-55310.

Greenray Industries is a leading supplier of high precision, quartz-based oscillators for use in wireless, wired telephony, aerospace, military, satellite, and other communications applications.

Information regarding the T1215 TCXO and all Greenray products is available at www.greenrayindustries.com.

Product Info: sales@greenrayindustries.com
Greenray Industries, Inc.
(717) 766-0223

Related