AC Motor Controllers and Drives
Low Harmonic Drives eliminate distortion.
Press Release Summary: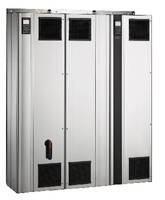 Featuring modular design, VLT® Low Harmonic Drives eliminate current distortion at source by performing real-time analysis and actively imposing currents, as needed, to restore and ensure optimized sine waves from power supply grid. Units come in power ranges of 132-630 kW high overload and 160-710 kW normal overload, and voltage range of 380-480 Vac, 50-60 Hz. Offered in IP 21/NEMA1 or IP54 enclosure, drives continuously regulate network and load conditions without affecting connected motor.
---
Original Press Release:

Danfoss Launches World's First Mass Produced VLT® Low Harmonic Drive



Eliminates harmonic disturbances on the supply grid by actively imposing currents into the grid, such that the high quality sine wave of the grid current itself is restored

LOVES PARK, IL -- Danfoss Drives introduces the VLT® Low Harmonic Drive. VLT Low Harmonic Drives don't merely reduce or mask current distortion; they attack it at the source by performing real time analysis and actively imposing currents, as needed, to restore and ensure the highest possible quality sine waves from the power supply grid. Additionally, they feature a modular design meaning that most elements are produced in large scale for cost effective production - and since most VLT drives, including VLT Low Harmonic Drives, are individually configured according to the customer's specific needs, they deliver the value of a highly customized quality drive for the price of a mass produced unit.

VLT Low Harmonic Drives share the same highly modular technology platform as Danfoss' popular VLT high power drives, to deliver time-tested and field-proven functionality, quality and reliability, while sharing many of the same features such as high energy efficiency, backchannel cooling and user-friendly operation. These drives are available in the power range 132 - 630 kW high overload, 160 - 710 kW normal overload, and voltage range of 380 - 480 VAC, 50 - 60 Hz. They meet the IEEE519 recommendation, are available in an IP 21/NEMA1 or IP 54 (hybrid) enclosure, are UL, cUL and Ctick listed, and carry the CE mark. They are well suited for:

o Meeting even the toughest of harmonics recommendations/standards

o Installations that are generator-powered, or that have generator back-up power

o Soft power grids

o Grids with limited excess power capacity

"In essence, the filter portion of VLT Low Harmonic Drives has the same working principle as a set of noise cancelling headphones, where the noise or distortion is measured and a computer phase signal is imposed to compensate for that noise. As a matter of scale, noise cancelling headphones can inject 100 mW at 50 - 1000 Hz, where VLT Low Harmonic Drives can inject several hundred watts at 250 - 2000 Hz," says Gregers Geilager, Product Manager, Low Harmonic Drives.

VLT® Low Harmonic Drives cause no increased winding stress and have no impact on bearing life. They provide the user with a full readout of the unit performance towards the grid, including a graphical overview of grid behavior. Where the performance of other low harmonic technologies depend on the stability of the grid and load or affect the controlled motor, VLT Low Harmonic Drives continuously regulate the network and load conditions without affecting the connected motor. In fact, VLT Low Harmonic Drives are motor friendly, with output impulse and shaft voltages compatible with motors conforming to IEC 60034-17/25 & NEMA-MG1-1998 part 31.4.4.2, as per standard VLT® Drives.

A unique design uses a ducted back channel to pass cooling air over heat sinks with minimal air passing through the electronics area. This allows 85% of the heat losses to be exhausted directly outside of the enclosure, improving reliability and prolonging life by dramatically reducing temperature rise and contamination of the electronic components. There is an IP 54 seal between the back-channel cooling duct and the electronics area of the low harmonic drive.

With the increased user of ever more powerful frequency converters, the issue of needing to prevent harmonic disturbances is growing significantly. Even after many years of growth for the drives market, only one out of eight motors is operated by a frequency converter. It's expected that the huge potential for energy savings by employing frequency converters will increase the number of drives in use - and hence the potential harmonic disturbance on the supply grid, and the need for smarter harmonic mitigation solutions.

Danfoss is a leading manufacturer of precision mechanical and electrical components, with locations in more than 120 countries. In addition to setting the standard for high-performance quality variable frequency drives, Danfoss meets the needs of its customers through its EnVisioneeringSM partnerships. EnVisioneering focuses on developing new technologies for sustainable business growth through engineering innovation, energy efficiency and environmental responsibility.

Danfoss Drives, 4401 N. Bell School Road, Loves Park, IL 61111; Phone: 800-432-6367; Fax: 815-639-8000; salesinformation@danfoss.com; www.danfossdrives.com.

For Lead processing: Email or send all leads to: salesinformation@danfoss.com; Danfoss Inquiry Management, Attn: Business Development, 4401 N. Bell School Road, Loves Park, IL 61111. Please identify leads with item code DAN618H for fastest lead processing. All inquiries will be sent a copy of the appropriate literature.

More from Construction Equipment and Supplies