Low Friction Rolling Bearings Enable Greater Drive Train Efficiency in Tractors and Graders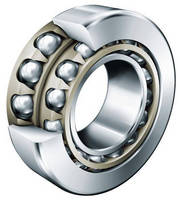 The Schaeffler Group has developed new rolling bearings for tractors and graders, which enable greater drive train efficiency, reducing fuel consumption and vehicle emissions.

Tractors and graders require high drive power and operate at high speeds. As well as providing operational reliability under every conceivable load or speed condition, design engineers are now looking to develop more environmentally friendly machines with reduced fuel consumption and more energy efficient drive trains.

Many of the latest tractors offer more than 100kW drive power, with some achieving road speeds of up to 80km/h. Most graders operate under full load at speeds of up to 40km/h. The high drive power required for these types of applications is transmitted via the gearbox and differential. Therefore, significant fuel savings can be achieved by focusing on improving the efficiency of these two key drive train systems.

Low Friction Bearings

The terms 'rolling bearings' and 'energy efficiency' are almost synonymous with one another. Rolling bearings are generally specified in order to save energy. Where mechanical work is required or components are in motion, rolling bearings ensure reduced friction and therefore increased energy efficiency. This is why the rolling bearing - a universally accepted, frequently used machine component - is and will remain one of the key components in reducing energy consumption.

The continuous improvement of modelling, simulation and design calculation software is the main prerequisite for developing even better bearings that are tailored more precisely to match customer requirements, leading to even higher energy efficiencies.

It is not only the selection of the most suitable bearing that plays a key role here. The internal design of a rolling bearing, for example the design of the cage, will also have a major impact on the bearing's performance and friction. Other design approaches involve the use of friction-reducing, wear-resistant materials and coatings, as well as applying further surface quality improvements in the functional areas of the bearing during volume production.

Low Friction Tapered Roller Bearings

Low friction tapered roller bearings are optimised in terms of their geometry, surface structure and materials, as well as dimensional and running accuracy. As a result, the basic dynamic load rating is increased by up to 20 per cent and the basic rating life is extended by up to 70 per cent. This means that for specific applications it is now possible to select more compact, lighter bearings, which leads to a further reduction in friction. The use of premium grade materials and special heat treatment provides the bearing with a higher resistance to solid particulates and contaminants such as sand, dirt, dust and heavy clay soil.

In addition, an improved logarithmic profile was developed for the bearing raceways and roller surfaces, which compensates for stress peaks during high loads or misalignment. Due to the optimised roller surfaces and contact geometry, an elasto-hydrodynamic lubricant film is created, even at very low speeds. This film allows high loads on the bearings during initial start-up and reduces frictional torque by up to 75 per cent compared to conventional bearings.

Friction-optimised Tandem Angular Contact Ball Bearings

Schaeffler's INA and FAG tandem angular contact ball bearings prevent the loss of preload and also reduce friction losses. Therefore, the bearings increase the efficiency of the gearbox and enable significant fuel savings to be achieved.

Similar to tapered roller bearings, angular contact ball bearings can support axial and radial loads. However, due to their point contact, angular contact ball bearings produce less friction and (unlike tapered roller bearings) have no roller/rib sliding contact, which would adversely affect friction.

Point contact is easier to lubricate than line contact of tapered roller bearings. This means that angular contact ball bearings operate with lower friction than similar-sized tapered roller bearings. The use of double-row angular contact ball bearings ensures that the required load carrying capacity can be achieved and at the same time, the frictional torque is lower than single-row angular contact ball bearings with the same load carrying capacity. Another benefit of angular contact ball bearings is the preservation of preload, which provides consistently high rigidity.

Friction-optimised Tandem Ball Roller Bearings

The innovative "ball roller bearing" is based on an ingenious idea and novel rolling element combined with new assembly methods.

All areas of a conventional rolling element or "ball" that are not under load are removed. This means that 15 per cent of the ball diameter is cut off on both sides of the ball. The result is the 'ball roller', a ball that is flattened on both sides, which is 30 per cent narrower than a conventional ball. This saves valuable design space. Furthermore, the very slim shape of the ball roller, as well as specially developed assembly methods, enable an increase in the number of rolling elements, so that a filling capacity of up to 90 per cent can be achieved. More rolling elements in the same design space results in much higher load ratings and correspondingly longer service life.

These benefits open up new opportunities for engineers to downsize their products and sub-assemblies. The two-cage design enables the optimal adjustment of the two raceways independently of each other to perfectly match the application. This ensures maximum load support with minimum bearing size and even lower friction.

For more information on Schaeffler's range of rolling bearings for tractors and graders, please call Schaeffler UK's Marketing Department on: 0121 313 5870 or email info.uk@schaeffler.com

With a total of 65,000 employees at over 180 locations around the globe and group sales of 7.3 billion euros (fiscal year 2009), the Schaeffler Group is one of the world's leading rolling bearing manufacturers and automotive component suppliers. The corporate group includes the INA Group with headquarters in Herzogenaurach, the FAG Group based in Schweinfurt as well as the LuK Group, with headquarters in Bühl.


More from Electrical Equipment & Systems