Low-Frequency Filter is based on dpASP technology.
Press Release Summary: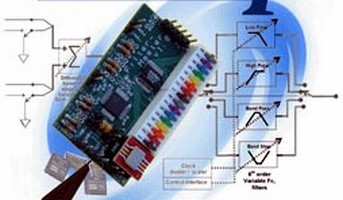 Comprised of AN231E04 dpASP and AN236C04 State Machine, AnadigmFilter1(TM) chipset utilizes sixth order filtering and is dynamically programmable from DC to 600 kHz. Low pass, band pass, high pass, or band stop circuits can be implemented without D/A conversions or writing DSP or MPU programming code. Design enables selection of one of 4 types of filters, frequency, and gain control using 16-bit control interface, DIP switches, or hard wired pull-up and pull-down resistors.
---
Original Press Release:

Anadigm® Reveals First Low-Frequency Filter Based on Analog Signal Processor (dpASP) Technology



AnadigmFilter1(TM) Is Dynamically Programmable from DC to 600 kHz with Gain, and Utilizes 6th Order Filtering

TEMPE, ARIZONA -- August 13, 2007 -- Leveraging its leadership in Analog Signal Processing technology, Anadigm has introduced AnadigmFilter1(TM), the first in a family of chipsets using its dynamically programmable dpASP and a state machine. This dynamically programmable ASP incorporates a universal analog filter architecture that provides the designer with frequency options from DC to 600 kHz, using a 6th order filter. Low pass, band pass, high pass or band stop circuits can be quickly implemented, without the usual digital-to-analog conversions or writing DSP or microprocessor programming code. The designer simply selects from the comprehensive library of pre-sets available within AnadigmFilter1(TM). The on-board filters can be selected to emulate Butterworth, Bessel, Chebyshev and inverse Chebyshev filter approximations.

AnadigmFilter1(TM) solves design challenges for low and ultra-low frequency filter requirements in applications such as monitoring the movement and stresses of buildings, bridges and rail tracks; strain gauges; and piezo sensors or other inputs receiving vibration sensor data. It's also extremely effective with ultrasonic, acoustic or other low-frequency signals that require filtering. These applications include hearing aids, audio synthesizers, sonar systems, fish finders, RF receivers, satellite receivers, set top boxes and global positioning systems (GPS). Numerous telephone, communication and industrial control system applications can also benefit from the simplicity and accuracy and flexibility of this programmable analog filter.

AnadigmFilter1(TM) is the first low-frequency filter to provide the designer with breakthrough design simplicity - enabling selection of one of four types of filters -- frequency and gain control using a simple 16-bit control interface, DIP switches or hard wired pull-up and pull-down resistors. The chipset input consists of a choice of one or two fixed input stages (which can be summed), each of which can be configured using external resistors and capacitors to provide gain or attenuation, level shifting, single-ended-to-differential conversion and 1st-order low-pass and high-pass filtering. Gain and stop-band frequency can be dynamically controlled in real time without interruption to the signal, allowing filter gain and frequency to be swept across one full octave of the frequency spectrum. Large changes in filter frequency are realized by adjusting the internal clock dividers, or external reference clock frequency changes to the clock. Summing stage input connections and filter circuit architecture or approximation can also be realized in real time when these parameters are changed, although there will be a momentary break in the circuit connections and step response settling time. Filter gain and corner frequency settings are typically better than 1% accurate; these settings are very stable over the entire industrial temperature range - with almost no temperature drift. Chipset power consumption is typically 200milliwatts. Low-current standby mode/sleep mode is also available.

"AnadigmFilter1(TM), unlike currently available low-frequency digital devices, is an analog signal processor-based solution," remarked Richard Riker, CEO of Anadigm, Inc. "Our dpASP technology eliminates D-to-A conversions and the complexities of learning new digital programming. AnadigmFilter1(TM) makes low-frequency designs a lot faster, easier and less expensive."

Simon Dickinson, COO at Anadigm added, "There are two unique new advantages to this chipset product: the huge selectable filter frequency range and the ability to control this with a fixed-hardware 16-bit wide control interface. This is not only a powerful filter for production products but is also very useful and flexible within a prototype. Final filter architecture and exact gain and filter corner or center frequency can be optimized and tuned within the final circuit board."

Samples and production quantities of the new AnadigmFilter1(TM) AN236K04 chipset, which consists of the AN231E04 dpASP and AN236C04 State Machine, are available now from distributor Nu Horizons (www.nuhorizons.com) and Anadigm, at a suggested resale price for U.S. delivery in 1000-piece quantities at US$11.28 each. In addition, the AN236K04-EVAL2 AnadigmFilter1(TM)evaluation board, which includes the AN236K04 chipset, is available at a suggested resale price of US$199.00.

About Anadigm®

Anadigm® brings platform-based design to the analog world with pre-qualified software and hardware components that allow complex analog circuits to be implemented in real time programmable Analog DSP. Designed to implement signal conditioning, filtering, data acquisition, closed-loop control, and other analog functions in a wide range of embedded systems, Anadigm® Analog DSP's are leading programmable analog ICs that can adapt on the fly to perform multiple functions, and adjust to different environmental conditions. For further information, visit Anadigm® on the Web at www.anadigm.com.

Anadigm® and AnadigmDesigner®2 are registered trademarks of Anadigm®. All other trademarks appearing herein are the property of their respective owners.

Reader Contact:
Anadigm, Inc.
Richard Riker, CEO
Tel: +1 (480) 422-0191
richard.riker@anadigm.com

Related