Low Fogging Transfer Adhesives are suited for foam bonding.
Press Release Summary: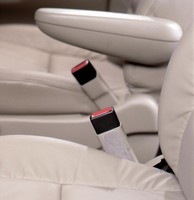 Acrylic transfer adhesives Unifilm® U617A and U618A, suited for automotive assembly applications such as general assembly and foam lamination, adhere to ether and ester foams as well as surfaces such as low surface energy plastics. Unifilm U617A, available in 3 mil thickness, exhibits resistance to chemicals, environmental extremes, and aging. Available in 4 mil thickness, Unifilm U618A exhibits humidity- and water-resistance.
---
Original Press Release:

Low Fogging Transfer Adhesives for Foam Bonding



Windsor, Connecticut - November 21, 2005.... Scapa Automotive offers Unifilm® U617A and U618A, two low fogging acrylic transfer adhesives for automotive assembly applications including general assembly and foam lamination. Both products meet the requirements of GM 3622-M (Type 1), GM 3607-M (Type 1), GM 9985281-9, Ford WSS-M11P62-A, DCX MSCC240 and DCX MSCC211 automotive specifications.

Unifilm U617A and U618A are ideal for trim attachment and lamination to foam for gasketing and NVH applications. Both products provide excellent adhesion, long term aging and high initial wet out to a variety of urethane foams. U617A and U618A exhibit excellent adhesion to ether and ester foams and offer high specific adhesion to a variety of surfaces including low surface energy plastics.

Unifilm U617A provides exceptionally high tack and peel strength and excellent gap filling properties. Offering excellent resistance to environmental extremes, U617A provides good chemical resistance and aging properties. This clear product is available in a 3 mil thickness and is supplied with a 76# polycoated lay flat release liner.

Unifilm U618A provides extremely high tack, quick stick and peel strength, as well as excellent humidity and water resistance. U618A is available in a 4 mil thickness and is supplied with an 80# kraft release liner to enhance die cutting capabilities.

The adhesive used in U617A and U618A are available in thicknesses of 1-5 mils. The products are offered on a variety of liners as part of the Scapa Automotive low fogging transfer adhesive product line.

For additional information, contact Scapa Applications Support at (800) 653-5315, or access the Scapa Automotive website at www.scapaautomotive.com/. Scapa North America develops innovative specialty adhesive films, tapes and compounds for a range of markets. Major markets include aerospace, automotive, cable, construction, electronics, industrial assembly, medical, printing and graphics and sports and entertainment

More from Software