Low-Ferrite Valves suit sanitary applications.
Press Release Summary: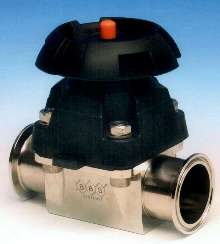 BBS-Systems Sterile 2/2 Diaphragm Valves are machined from 316 stainless steel. Cavity-free and compliant with DIN 1.4435 BN2 norms, products are piston-driven, pneumatically actuated, and rated to 150 psi. Valves, with 180-grit interior finish and 120-grit exterior finish, are self-draining when positioned as indicated on valve body. Eleven models range in size from ¼-6 in. They are suitable for applications requiring CIP/SIP and are fully autoclavable.
---
Original Press Release:

Low-Ferrite, Low Porosity Diaphragm Valves Right for Sterile Applications


New BBS-Systems Sterile 2/2 Way Diaphragm Valves from L.J. Star Inc. are machined from fully traceable and certified 316 stainless steel barstock. They are cavity free and compliant with DIN 1.4435 BN2 norms, eliminating problems associated with ferrite content, porosity and welding flows that may occur with valves based on castings or forgings. They are piston driven, pneumatic actuated and rated to 150 psi (10 bar) on both sides of the diaphragm.

BBS-System sanitary valves are ideal for applications requiring CIP/SIP and are fully autoclavable. The interior finish is 180 grit (30 µ-inch) mechanical polishing followed by electropolishing. Exterior finish is 120 grit (52 µ-inch), also through mechanical polishing followed by electropolishing The unique design is profiled for low turbulence flow and the valves are self-draining when positioned as indicated on the valve body. Also, being modular, the design allows for easy access in critical process systems.

Eleven models are offered, ranging in size from ¼-inch to six inches. Exceptionally compact, they range in height from 6.3 to 89 mm (0.25 to 3.5 inches) A wide variety of options are offered, including a choice of reinforced polypropylene or stainless steel bonnets, a variety of diaphragm materials and either clamp or orbital weld ends. You may also specify a stroke limiter/manual override, and electrical position indicators, solenoid pilot valves, positioners, and proximity switches.

Test certificates include Material Test Reports on the valve body and FDA certification on the diaphragms.

To obtain additional information, contact L.J. Star Incorporated, P.O. Box 1116, Twinsburg, OH 44087. Phone: 330-405-3040. Fax: 330-405-3070. Email: view@ijstar.com. Or visit our web site: www.ljstar.com

More from Optics & Photonics