Low Dropout Regulator is available in S-Pak package.
Press Release Summary: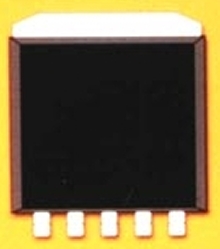 MIC37150/1/2 1.5A LDO is designed for powering 1.5, 1.8, or 2.5 V from minimum supply of 2.25 or 3.0 V. It features dropout of 500mV over all conditions. MIC37150 is a 3-terminal device; MIC37151 includes error flag to warn of fault condition and enable pin for on/off control; and MIC37152 offers adjustable output voltage as well as on/off control of output voltage. uCap design allows use with Tantalum or ceramic capacitor.
---
Original Press Release:
Micrel's LDO Regulator Among Industry's Smallest Aims for Low-Voltage, High Power Processors

* Ideal for powering low-voltage DSPs, uControllers, and Digital Logic
* less than two-thirds the area of the TO-263 package, almost half the thickness

SAN JOSE, Calif. -- (December 5, 2001) - The first of a new family of low-voltage, high current low-dropout regulators (LDOs), manufactured in a small, thin, and light power package, is now available from Micrel Semiconductor (NASDAO: MCRL), an industry leader in power management and high-speed communication ICs.

Available in the new S-Pak package, the MIC37150/1/2 is a 1.5A LDO designed specifically for powering 1.5V, 1.8V, or 2.5V from a minimum supply of 2.25V or 3.0V. The MIC37150/1/2 features a dropout of 500mV over all conditions. The MIC37150 is a three terminal device, offering simplicity and performance. The MIC37151 includes an error flag to warn of a fault condition and an enable pin for on/off control. The MIC37152 offers the added benefit of an adjustable output voltage as well as on/off control of the output voltage. The MIC37150/1/2 is a uCap design, offering stability when driving high capacitance loads. The uCap capability permits the MIC37150/l/2 to use either tantalum capacitors or smaller, less expensive ceramic capacitors.

"The MIC37150/1/2 is less than two-thirds the area of the traditional TO-263 package and almost half the thickness while providing the same power handling capability. The device is an ideal solution for powering low-voltage ICs where real-estate is limited but performance requirements are high," said John McGinty, LDO Applications Engineer.

When purchased in a quantity of 1,000, price for the MIC37150/1/2 starts at $1.98. Samples are available, and production quantities are stock to 8 weeks ARO.

Summary of Features & Applications: MIC37150/1/2 LDO
Features
* 1.5A Output Capability
* Ultra-Low Dropout: 500mV @ 1.5A (over temperature)
* Fixed 1.5V, 1.65V, 1.8V, 2.5V, 3.0V, and Adjustable Outputs
* Stable with Ceramic or Tantalum Output Capacitor
* Logic Enable Input
* Fully Protected:
Reverse Battery
Reverse Current
Current Limit
Thermal Shutdown
* Junction Temperature Range: -40degC to +125degC
* Low Profile S-Pak

Applications
* Low voltage microcontrollers
* Multimedia and PC processor supplies
* High-efficiency linear power supplies