Low-Dissipation EMI Filters are military and aerospace rated.
Press Release Summary: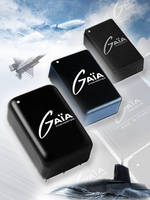 Model FGDS-2A-50V is rated from 4-50 W at up to 2 A input current and measures 35.5 x 20.5 x 10.7 mm, while FGDS-10A-50V, rated from 50-150 W at up to 10 A input current, is housed in 40.8 x 27 x 12.7 mm package. Measuring 40.8 x 27 x 16.5 mm, model FGDS-20A-50V is rated from 150-300 W at up to 20 A input. All modules withstand transient and spike requirements of MIL-STD-704A and MIL-STD-1275B, operate in all harsh environmental conditions, and do not need heatsink for dissipation.
---
Original Press Release:

Gaia Converter High Density, Low Dissipation EMI Filters for Aerospace and MIL Applications



2A, 10A and 20A EMI filter modules meet MIL-STD-461

Gaia Converter, the specialist high reliability power converter module supplier, announces the availability of three EMI filter modules providing state of the art electromagnetic interference (EMI) protection for avionic and military power systems. Those modules offer a very compact, and very low dissipation solution in application where space is critical without need of any heatsink.

The FGDS-2A-50V is rated from 4-50W at up to 2A input current, the FGDS-10A-50V rated at 50-150W at up to 10A input current and the FGDS-20A-50V rated at 150-300W at up to 20A input current.

All filters meet the requirements of MIL-STD-461parts D, E and F, with the FGDS-
2A-50V also meeting part C. All three filters are also compliant to DO-160 parts C, D,
E and F and will withstand, without damage, the transient and spike requirements of
MIL-STD-704A and MIL-STD-1275B. The filters are fully characterised for operation
in all environmental conditions including altitude, humidity, atmosphere, temperature
cycling and shock as well as mechanical vibration, bump and shock.

Modules are housed in very compact size, the dimensions of the FGDS-2A-50V are 35.5x20.5x10.7mm, the FGDS-10A-50V is housed in 40.8x27x12.7 mm package and the FGDS-20A-50V measures 40.8x27x16.5mm; they do not need any heatsink for
dissipation.

All Gaia products are designed and manufactured in-house in France using fully automated manufacturing and test equipment. Gaia Converters have offices in France, Germany and the USA and distributors worldwide. For further information visit www.gaia-converter.com, email info@gaia-converter.com or call +(33).5.57.92.12.80

About Gaia Converter

GAIA Converter was created in the early 1990's. Since that time the company has
developed one of the most comprehensive ranges of modular power components in
the electronics market place. GAIA Converter has also brought to the market its now
well established concept of Modular Power Architecture simplifying the design of
complex power supplies. With more than 3,500 standard power component
references serving the industrial, transportation, aerospace and military markets,
GAIA Converter is recognised as one of the world leaders of "power module"
solutions.

For more information contact

GAIA CONVERTER

Serge Manele

V.P. Marketing and Sales

smanele@gaia-converter.com

Direct Phone: +(33).5.57.92.12.81

Parc d'Activité de la Morandière

Rue Copernic

BP 26

33186 LE HAILLAN CEDEX

Switchboard: +(33).5.57.92.12.80

Fax: +(33).5.57.92.12.89

info@gaia-converter.com

http://www.gaia-converter.com