Low-Density Shrink Sleeve Label offers seamless separation.
Press Release Summary: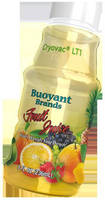 Composed of multilayer, polymer-based film, Cryovac® LT-1 provides 360°, form fitting bottle coverage via low temperature, high shrink (up to 70% at 90°C) capacity. Density of 0.95 g/cc is lower than 1 g/cc standard that guides polyethylene terephthalate (PET) recycling. Labels are compatible with existing label systems and separate and float from source PET bottles upon reaching recycling process, reducing contamination during recycling and promoting bottle recycling efficiency.
---
Original Press Release:

Sealed Air Shrinks PET Recycling Concerns with New Cryovac®LT-1 Shrink Sleeve Label



Low-density, multi-layer film enables seamless end-of-life separation while maintaining performance and appearance



DUNCAN, S.C. – Sealed Air has expanded its presence in the shrink label market with the unveiling of its new Cryovac® LT-1 shrink sleeve label, among the first in the industry with a density lower than the 1g/cc standard which guides polyethylene terephthalate (PET) recycling. The labels are composed of a multi-layer polymer-based film to provide 360-degree, form-fitting bottle coverage while enhancing sustainability and performance.



Featuring a density of 0.95 g/cc, Cryovac® LT-1 shrink sleeve labels easily separate and float from source PET bottles once they reach the recycling process. This reduces contamination during recycling and enables greater bottle recycling efficiencies. A video demonstrating these properties can be viewed here.



"Shrink label separation has emerged as one of the greatest challenges for PET recyclers, who battle accumulating waste as a result of high-density labels that sink and ultimately mix with PET bottle flakes," said Scott Keefauver, marketing manager, Sealed Air Packaging Solutions. "By offering a high-performance, PVC-free label that complies with sorting equipment and grants second life for recycled bottles, Sealed Air reinforces our commitment to our SmartLife sustainability approach, which emphasizes reducing waste while increasing value of recycled material."



Cryovac® LT-1 shrink labels additionally deploy low temperature, high shrink (up to 70 percent at 90 degrees Celsius), enabling tight, secure fit to any bottle design. Each label is composed of pliable, high-gloss material that prevents cracking and reduces potential damage from scratching, while maximizing product retail shelf presentation.  In addition, the Cryovac® LT-1 label yields up to a 30 percent source reduction compared to other monolayer shrink sleeve labels.



Fully compatible with existing label systems, converters can implement Cryovac® LT-1 labels without additional equipment or hassle. The product's exterior film layer consists of a print-friendly substrate that is likewise compatible with existing shrink sleeve inks and seaming solvents.



"Cryovac® LT-1 shrink sleeve labels deliver unparalleled performance and sustainability for converters without requiring additional printing, converting or process expenses," said Keefauver. "By providing our customers with final products that are both functional and appealing, Sealed Air drives value across multiple sectors, including beverages and health and beauty, among others."



For more information about Cryovac®LT-1 shrink sleeve labels, visit www.shrinkfilms.comor call 1-866-773-4567.



About Sealed Air

Sealed Air is a global leader in food safety and security, facility hygiene and product protection. With widely recognized and inventive brands such as Bubble Wrap®brand cushioning, Cryovac® brand food packaging solutions and Diversey™ brand cleaning and hygiene solutions, Sealed Air offers efficient and sustainable solutions that create business value for customers, enhance the quality of life for consumers and provide a cleaner and healthier environment for future generations. Sealed Air generated revenue of approximately $7.6 billion in 2012, and has approximately 25,000 employees who serve customers in 175 countries. To learn more, visit www.sealedair.com.



Jamie Cwalinski

Account Executive

MSL Atlanta

a: 1170 Peachtree Street NE Ste. 1600, Atlanta, GA 30309

o: 404-877-5534 | f: 404-892-1274 | m: 404-664-2092

e: jamie.cwalinski@mslgroup.com

w: mslgroup.com

More from Services