Low Cost Tension or Slip Clutch/Brake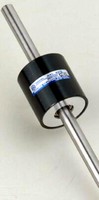 OPL units are primarily designed for controlling paper jam conditions in copy and fax machines. They are made in very high volumes so they have very low cost, even though they contain magnetic particles and permanent magnets. These units can come with either customized 400 series stainless steel shafts or hollow bore units to slide on a customer's existing shaft.

Ogura products are manufactured in Europe, North and South America and Asia. Manufacturing plants are ISO9001, 14001 and TS16949 compliant. Clutches and brakes are RoHS compliant.

UK, European and Scandinavian customers please contact Michael Hehnen at mhehnen@ogura-clutch.com. All other inquiries should go to Jim Andes at jandes@ogura-clutch.com.


More from Material Handling & Storage