Low Cost CPU Based 3.5" QVGA Color TFT Display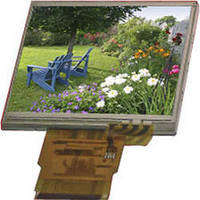 Microtips Technology is proud to show its low cost CPU based 3.5" QVGA color TFT display. It is an attractive display because of its ease of use and low price. You can use a microprocessor and interface with it by standard parallel input. Great for any industry.

Some other features:

o 320 x 240 resolution

o Chip on glass IC package

o White LED backlight

o Available with or without touch panel

o 6:00 viewing direction

o Overall dimensions of 76.90 x 91.55 x 4.30 mm

o Active area dimensions of 70.08 x 52.56 mm

o Brightness of 400 nits without touch panel

o Brightness of 350 nits with touch panel

For any information, please contact Microtips Technology at # 888-499-8477 or visit us at www.microtipsusa.com.

More from Display & Presentation Equipment