Low Ambient VRF Outdoor Units combine efficiency and comfort.
Press Release Summary: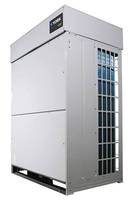 Targeting commercial and light commercial buildings in cooler climates, YORK® Low Ambient variable refrigerant flow (VRF) cooling and heating systems provide energy efficiency with individualized comfort. These 6-, 8-, 12-, 14-, 16-, and 24-ton heat pump systems feature inverter compressor technology for efficient heating down to -13°F ambient air temperature. Units offer heating up to 59°F and cooling range of 14 to 118°F ambient air temperature. Vertical lift is 295 ft max.
---
Original Press Release:

YORK® Low Ambient VRF Outdoor Units from Johnson Controls Combine Energy Efficiency with Individualized Comfort for Cooler Climates



New product enhancements increase the flexibility of the full product line in multiple building types



MILWAUKEE – The new YORK® Low Ambient variable refrigerant flow (VRF) cooling and heating systems from Johnson Controls provide energy efficiency with individualized comfort to commercial and light commercial buildings in cooler climates.



The new 6-, 8-, 12-, 14-, 16- and 24-ton VRF heat pump systems feature inverter compressor technology with highly efficient heating function down to -13°F ambient air temperature due to the new scroll compressor and liquid injection technology. The units offer heating up to 59°F and a cooling range of 14°F to 118°F ambient air temperature.



AHRI-certified efficiency ratings for the low ambient systems are as follows:

Integrated Energy Efficiency Ratio (IEER) up to 18.9

Energy Efficiency Ratio (EER) up to 13.0

Heating Coefficient of Performance (COP) up to 4.09

The existing YORK VRF Indoor Unit product line is fully compatible with the new Low Ambient Outdoor Units, so engineers and architects are able to offer VRF systems in cooler climates with design freedom for multiple building types and styles.



The new Low Ambient VRF Outdoor Units are well suited for the following types of projects: schools, multi-family, offices, retail, churches, lodging, historic renovations and healthcare facilities.



Additional product enhancements for the full product line include:

Heat recovery and heat pump systems now have an increased vertical lift up to 295 feet for systems of any size—ideal for applications where the vertical distance between the outdoor and indoor units exceeds 164 feet.

YORK VRF Simplified Wired Controller is now capable of integration with key-card systems for set-back temperature—ideal for hotels, hospitality, or lodging.

RLS Press Fittings and Parker Sporlan Zoomlock Press Fittings have been approved for installing or servicing YORK VRF and Duct Free Mini-Split systems.



For more information about the YORK VRF product line from Johnson Controls, visit johnsoncontrols.com/vrf.



About Johnson Controls

Johnson Controls is a global diversified technology and industrial leader serving customers in more than 150 countries. Our 150,000 employees create quality products, services and solutions to optimize energy and operational efficiencies of buildings; lead-acid automotive batteries and advanced batteries for hybrid and electric vehicles; and seating components and systems for automobiles. Our commitment to sustainability dates back to our roots in 1885, with the invention of the first electric room thermostat. Through our growth strategies and by increasing market share we are committed to delivering value to shareholders and making our customers successful. In 2016, Corporate Responsibility Magazine recognized Johnson Controls as the #17 company in its annual "100 Best Corporate Citizens" list. For additional information, please visit http://www.johnsoncontrols.com or follow us @johnsoncontrols on Twitter.



About Johnson Controls' Building Efficiency

Johnson Controls' Building Efficiency has an unmatched portfolio of HVACR products and solutions to create more comfortable, safe and efficient buildings. Operating in more than 150 countries through a strong network of distribution channels, Building Efficiency's breadth of offerings help building owners, operators, engineers and consultants impact the full lifecycle of a building. Its market leadership is established through trusted brands such as YORK®, Sabroe® and Metasys® as well as its smart building integration capabilities and energy financing solutions. For more information, visit www.johnsoncontrols.com or follow @JCI_BEnews.



Related Links:

Johnson Controls: http://www.johnsoncontrols.com

York®: http://www.york.com



For reader inquiries:

Ryan Nolan

Public Relations Program Manager

Building Efficiency, Johnson Controls

Work + 1 414 524 6170

Mobile + 1 414 378 9641

Ryan.P.Nolan@jci.com

More from Laboratory and Research Supplies and Equipment