Loop Converter bridges HART and analog signals.
Press Release Summary: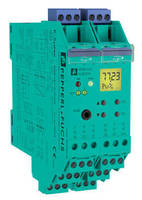 Acting as transmitter power supply and HART monitor, HART Loop Converter (HLC) lets users access digital information from HART-enabled field devices and make it available to analog process control as 4-20 mA signals. Up to 3 HART signals can be monitored simultaneously and are provided as independent analog signals, or HLC can provide one signal via 3 analog channels to send to different systems. It is equipped with 2 or 4 trip values, programmable to monitor specific error conditions.
---
Original Press Release:

New HART Loop Converter Provides Access to Vital Process Data



Serves as a bridge between the digital and analog world for improved process control

TWINSBURG, OH - Pepperl+Fuchs introduces the HART Loop Converter (HLC). The new HLC allows users to access the digital information from HART-enabled field devices and makes it available to the analog world of process control. This allows access to a wealth of real-time values and opens completely new opportunities to achieve more targeted process control, detect critical situations at an early stage, and add more transparency and safety to the complete production process.

"Until now, digital process data from HART-enabled field devices could only be accessed in combination with process control systems that were based upon a digital Fieldbus infrastructure. All other systems were only able to evaluate their analog signals, while the digital output remained out of reach," says Robert Schosker, Product Manager. "Maintaining a safe production process often depends on the right information at the right time. The new HART Loop Converter leverages the full potential of HART enabled field devices, acting as a bridge between the digital and analog world by providing access to vital process data, which until now were simply unavailable."

The new HLC is both a transmitter power supply and HART monitor. It uses the HART protocol to communicate with the field device connected to it, and transfers its digital values into analog 4...20 mA signals. Up to three HART signals can be monitored at the same time and are provided as independent analog signals.

Highway Addressable Remote Transducer (HART) is the internationally accepted standard for the communication of intelligent field devices via the 4...20 mA signal. Meanwhile, most field devices support HART and offer this digital protocol next to their standard 4...20 mA analog signals in order to provide the plant operator with vital measuring values or status information. Presently, a basis of more than 20 million intelligent actors and sensors is installed in the worldwide process industry. They have field-proven reliability, and are used to control valves and measure vital process data, such as flow, level, temperature, pressure, or pH value.

A typical example of such a device is a multi functional HART flow meter, which is used in combination with many processes in the chemical and petrochemical industries. These devices usually measure three different types of process data: pressure, temperature and differential pressure. Based on these data, they calculate the flow of the respective process media and provide the process control system with this information in form of an analog 4...20 mA signals.

As a result, a multi-functional flow meter will not just provide the calculated flow values, but also directly measured process data such as pressure and temperature. This opens up new opportunities for parameter-dependant process control. Monitoring such information can contribute to improved production process safety, or enable users to keep an eye on specific parameters that can be important to maintaining consistent quality levels.

Additionally, the HLC allows access to additional functions of HART field devices for monitoring and control of production processes without requiring additional wiring and without the need to interfere in any other way into the existing communications infrastructure. In practice this means that the HLC converter contributes to protecting investments into the production control system by allowing access to the HART functionality of existing field devices, while preserving the available analog communications infrastructure.

The HLC is equipped with two or four trip values. These can be programmed to monitor specific error conditions detected by the field device and will react as soon as a specific value falls below or exceeds a pre-defined trip value. This turns the HART Loop Converter into a reliable alarm device that is able to detect critical process parameters, and helps to keep the ongoing production process within safe operating conditions.

"One major advantage to this is that the alarm is triggered directly by the digital HART signal and not by a separate analog signal, which would normally require a separate sensor with associated wiring. In the case of the flow meter, such an alarm function could be installed without additional hardware requirements in order to trigger an alarm as soon as the process media exceeds a specified temperature. It would even be possible to activate up to four trip values, each of them being connected to an independent relay," says Schosker.

Instead of converting up to three digital HART signals into analog signals, the HLC can also be programmed to provide one signal via three analog channels. Due to this so-called "signal splitting," it is possible to provide one and the same signal for different systems - for example, the process control system, a data recorder or a display for operator interaction.

Depending on the field device that is connected, the HLC can be operated in one of two operating modes. Normally, the device operates in burst mode, which allows considerably faster communication. In this mode, the field device automatically provides an updated value three to four times per second, which the HLC will confirm within 100 milliseconds. In case the field device does not support this mode, the HLC will enter into command-and-answer mode and will request the dynamic values from the field device at the highest possible sampling frequency.

Physically speaking, the HART Loop Converter from Pepperl+Fuchs is an interface component designed to fit into any cabinet with 35 mm DIN mounting rail. It can be integrated into the current loop of the field device in various ways. If active connection is chosen, power supply of the field device will be provided via the HLC. In this case, intrinsically safe connection of the field device without the need for additional isolated barrier or Zener barriers is guaranteed. If passive connection is chosen, the HLC is simply connected parallel to an exiting power supply without interfering with the safety characteristics.

Within a HART loop, the device can be configured as primary or secondary master. In case the process control system does not communicate with field devices via the digital HART protocol, the HLC will be configured as primary master. In this case, an additional secondary master can be connected. As an example, this might be a mobile communications device used to read digital signals or program the converter. In case there is already a master in the form of an asset management system, the HLC can alternatively be used as a secondary master.

The converter features a built-in display and keypad for status indication and programming. Additionally, an external programming device or PC/notebook may be connected via a front side terminal.

With the HART Loop Converter, Pepperl+Fuchs offers an unique solution to read essential digital signals and dynamic measuring values that are provided as a standard feature of many HART enable field devices, and makes them available under the conditions of conventional analog process control systems. This not only provides long-term protection of the system investment, but also leads to increased process safety and plant availability since this solution allows information into the process control system that was previously unavailable, or required considerable hardware and installation efforts.

About Pepperl+Fuchs
Pepperl+Fuchs has nearly 4,000 employees in more than 30 countries and is a world leader in the design, manufacture, application and support of a broad range of automation solutions. Pepperl+Fuchs is the market leader for intrinsic safety interfaces and hazardous location equipment. Our FieldConnex® fieldbus installation system for Profibus and FOUNDATION fieldbus provides maximum flexibility to modern process automation applications.

Additionally, P+F's Bebco EPS purge & pressurization systems provide rugged protection for any type of instrumentation. This comprehensive range of explosion protection systems and interface equipment is complemented by technologies such as EXTEC visualization & operation systems, as well as on-line corrosion monitoring transmitters and level sensing instruments.

Pepperl+Fuchs, 1600 Enterprise Parkway, Twinsburg, OH 44087; (330) 486-0002; fax: (330) 425-4607; pa-info@us.pepperl-fuchs.com; pepperl-fuchs.com.

More from Software