Long Pass-Edge Filters offer 10 additional wavelengths.
Press Release Summary: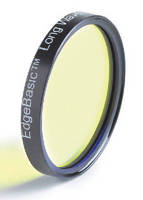 Intended for fluorescence imaging and metrology applications, EdgeBasic™ Long Pass-Edge Filters combine steep edge locations from 325–1319 nm, extended blocking at and below laser line, and consistent and extended high transmission pass bands. Featuring hard coated, no burn-out durability, filters are suitable for application-specific Raman spectroscopy when optimized laser-line blocking is required and Raman shift measurement is not too small.
---
Original Press Release:

Ten New Key Laser Wavelengths for EdgeBasic(TM) Long Pass-Edge Filters



Rochester, NY-  Semrock announces expanded wavelengths for the EdgeBasic™ family of long pass-edge filters with the addition of 10 popular laser wavelengths to the 19 currently offered.  Our EdgeBasic filters provide a superb combination of exceptionally steep edge locations (from 325 - 1319 nm) with extended blocking at and below the laser line, which is combined with consistent and extended high transmission pass bands.



EdgeBasic filters were designed from the glass up to provide high performance at a great value and are ideal for fluorescence imaging and metrology applications. Used in application-specific Raman spectroscopy, they are a superb fit when exceptional laser-line blocking is required and the Raman shift measurement is not too small.  Like all Semrock products, EdgeBasic filters have a proven hard coated, no burn-out durability that is backed by a five-year warranty.



Visit Semrock.com and shop the newly expanded EdgeBasic filter family. Order your new Semrock filter before noon (EST) and it will be shipped the same-day, and guaranteed to meet your needs with our 30-day no-hassle return policy. Most of our catalog filters can be custom-sized and shipped in two days. 



ABOUT SEMROCK:

Semrock, Inc., a Unit of IDEX Corporation, manufactures optical filters that set the standard in performance and reliability for the biotech and analytical instrumentation industries, as well as innovative optical filters for more general laser and optical systems applications.  All Semrock optical filters are made with hard, sputtered optical coatings. OEM filters are manufactured in volume.  End-users benefit from a wide selection of standard catalog products that ship from stock.  Semrock's patented and patent-pending products include its highly acclaimed BrightLine® fluorescence filters, state-of-the-art filters for Raman spectroscopy, and other unique filters for lasers and optical systems.  Semrock's innovative products, made possible by combining Semrock's engineering strength with proprietary volume manufacturing technology, are covered under a five-year warranty.



Founded in September 2000, Semrock is based in Rochester, New York, a well-known center of optics, and has sales offices throughout the United States.  In October 2008 Semrock became a Unit of IDEX Corporation.  For additional information about Semrock, its products, and its team of international distributors, visit the company website at www.semrock.com



Katie Toma

Marketing Specialist

IDEX Optics & Photonics

200 Dorado PL SE

Albuquerque, NM 87123

Tel: (505) 296-9541 x1280

Fax: (505) 298-9908

ktoma@idexcorp.com



More from Electrical Equipment & Systems