Long-Length Wear-Resistant Rail targets worldwide demand.
Press Release Summary: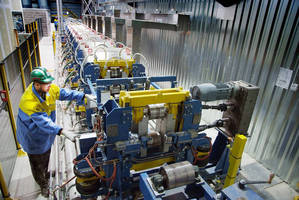 Heat-treated, stress-free train track rails, available in lengths up to 108 m, help rail operators enhance performance and reduce expenses associated with worn rail replacement. During manufacture, rail moves through induction furnace that uses electromagnetic field to heat steel to 950°C. Rail is rapidly cooled using compressed air. Super-hardened rail withstands high-wear conditions, such as heavy traffic, high axle loads, and tight curves.
---
Original Press Release:

Tata Steel Launches Long-Length Wear-Resistant Rail for the World Market



Tata Steel today launched a new state-of-the-art facility which will produce train track capable of lasting up to three times longer than standard rail.



The commissioning of the new heat treatment plant at Tata Steel's Hayange plant, in the Lorraine region of France, means the company will be able to supply long lengths of super-hardened rail which its customers want.



The new facility provides a full range of heat-treated 'stress-free' rails of up to 108 metres in length, allowing rail operators to enhance performance and reduce costs associated with more frequent worn rail replacement.



Last year Tata Steel announced it was investing more than Euros12 million in the plant. This followed a previous Euros35 million investment to enable the Hayange mill to produce longer 108-metre rails for the high-speed rail networks in France and across Europe.



Heat-treated rail can last up to three times longer than standard rail when used in high wear conditions such as heavy traffic, high axle loads or tight curves.



Henrik Adam, Tata Steel's Chief Commercial Officer, said: "This new heat treatment plant will open up new European market opportunities to us. We will be able to meet the needs of customers in Germany, Switzerland, Belgium, The Netherlands, Luxembourg and Scandinavia who are demanding longer-length heat-treated rail to reduce life-cycle costs."



The heat treatment plant will also allow Tata Steel to support existing markets, such as Brazil, Gabon, Mauritania and South Africa where rails have to cope with heavier axle loads, as well as metro systems in Hong Kong, India and Singapore where heat-treated rails have exceptional technical performance in demanding traffic conditions.



The new heat treatment plant will operate alongside an existing heat treatment line at the Hayange mill which can process rail of up to 36m in length.



The new facility will more than double the annual output of heat-treated rail from 55,000 to 125,000 tonnes.



Tata Steel's heat-treated rail is produced using a unique patented process which ensures it has exceptional wear resistance. The rail moves through an induction furnace which uses an electromagnetic field to heat the steel to 950°C. The rail is then rapidly cooled using compressed air.



Steel for the Hayange mill is produced at Tata Steel's Scunthorpe plant in the UK before being transported to France for rolling.



David Petitjean, Manager of the Hayange facility, said: "We have built this plant in response to demand from valued customers, but while our heat treatment process is tried and tested, we have continued to innovate to ensure the new plant will be more energy efficient and will allow us to deliver rail to customers exactly when required.



"Tata Steel has invested almost Euros50m in this facility over the last four years, helping to create a sustainable future for the 400 people who work here."



Tata Steel supplied the rail from its Hayange plant for the track on which a TGV broke the world train speed record in 2007. The French train reached a speed of 574.8kph (357mph) between Paris and Strasbourg.



Tata Steel Rail

PO Box 1 Brigg Road Scunthorpe

DN16 1BP UK

Katharine HAWKSWELL

Phone: +44 (0)1724 405414

Katharine.Hawkswell@tatasteel.com



Tata Steel France Rail SA

2 avenue du Président Kennedy,

78100 Saint Germain en Laye

France

Laure LAFARE

Phone: + 33 1 39 04 63 12

laure.lafare@tatasteel.com

More from Optics & Photonics