Logic Translator operates over 1.1-3.6 V range.
Press Release Summary: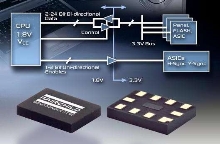 Model FXL2T245L10X, low-voltage 2-bit logic-level translator is offered in lead-free, 10-terminal, 1.6 x 2.1 mm MicroPak(TM) package. With output enable (3-state) function that allows full reverse data flow without conflicts, translator is targeted for use in 1.2, 1.5, 1.8, 2.5, and 3.3 V digital circuits to translate from lower to higher logic levels or vice versa, accommodating low voltage needs of cell phones, digital cameras, and notebooks.
---
Original Press Release:

Fairchild Semiconductor's 2-Bit Logic Translator Increases Design Flexibility with Wide Voltage Range, 3-State Output & Small Package


March 22, 2005-South Portland, Maine-Fairchild Semiconductor (NYSE: FCS) announces the FXL2T245L10X, a low-voltage 2-bit logic-level translator offering wide voltage range, "Output Enable" (3-state) capability and ultra-compact packaging. This translator is ideal for use in digital circuits to translate from lower to higher logic levels or vice versa, especially 1.2 V, 1.5 V, 1.8 V, 2.5 V and 3.3 V. The FXL2T245L10X's 1.1 V to 3.6 V range provides a lower voltage threshold than most alternatives, allowing it to better accommodate the low voltage needs of ultra-portable applications, including cell phones, digital cameras and notebooks.

Packaged in a space-efficient 10-terminal MicroPak(TM), Fairchild's FXL2T245L10X is especially useful for "transparently" adding two additional bits to an existing bi-directional translation path, such as a higher-definition LCD or stand-alone 2-bit translation solution for USB port data I/Os, including Memory Stick®, and other memory modules.

Key FXL2T245L10X performance benefits:

o Increased Functionality: Output Enable (3-state) function allows full reverse data flow without conflicts at the translator's opposing I/O terminals and eliminates the need for power-consuming bus hold operations or additional pull-up/-down resistors;

o Miniaturization: MicroPak(TM) chip-scale package (1.6 mm x 2.1 mm) provides up to 45 % PCB space savings over competing translators in leaded packages; and

o Improved Reliability: With up to 1.5x to 3x the terminal contact area of bumped chips, MicroPak is a rugged alternative to competing wafer level chip scale packaging (WCSP)."

"The FXL2T245L10X represents Fairchild's continuing commitment to provide designers with the flexibility to match microprocessor I/Os to a broad range of higher and lower voltage functions," says Ken Murphy, Fairchild marketing manager for Logic Products. "As product features are added in ultra-portable appliances, designers are increasingly utilizing more logic devices to resolve the mix of operating voltages. Fairchild's one, two, four, five, eight and 16-bit logic level translators in DQFN, BGA, and MicroPak(TM) provide solutions to such problems, while requiring the minimum amount of board space."

Like other FXL series translators, the lead (Pb)-free FXL2T245L10X meets or exceeds the requirements of the joint IPC/JEDEC standard J-STD-020B and is compliant with European Union requirements now in effect.

Price (ea, qty: 10,000 pcs): $0.27-FXL2T245L10X two-bit translator

Availability: Now

Delivery: From stock

To learn more contact:
Fairchild Semiconductor
Sona Kim, Marketing Communications
3001 Orchard Parkway
San Jose, CA 95134
Phone: (408) 822-2279
Fax: (408) 822-2410
Email : Sona.Kim@fairchildsemi.com


More from Communication Systems & Equipment