Logic Gate Optocoupler suits high-speed applications.
Press Release Summary: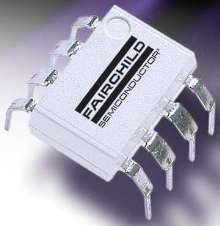 Providing 5 kVrms isolation voltage over its power supply voltage range, FOD2200 allows designers to drive data buses directly and eliminates possibilities for output signal chatter. Low IF of 1.6 mA (min) and VCC range of 4.5-20 V make unit compatible with TTL, LSTTL, and CMOS logic. Housed in DIP-8 package, product features common mode rejection of 1 kV/5 s, 3-state output, hysteresis output, and propagation delay of 300 ns max.
---
Original Press Release:

Fairchild Semiconductor's New High-Isolation Logic Gate Optocoupler Offers High Speed at Low Input Drive Current for Industrial Applications


San Jose, Calif.-August 6, 2004- Fairchild Semiconductor (NYSE: FCS) introduces the new FOD2200, a low input current logic gate optocoupler that provides industry-leading high isolation voltage (5kV rms) over a wide power supply voltage range. The high common mode rejection (CMR) of 1kV/5s and hysteresis output allows the FOD2200 to deliver optimum performance for high-speed applications in noisy industrial environments. The device's low IF (1.6 mA, min) and wide VCC range (4.5-20 V) not only lowers power consumption but makes it compatible with TTL, LSTTL, and CMOS logic. Other noteworthy features include electrical and switching characteristics guaranteed over a 0C to 85C range and a maximum propagation delay of 300 ns.

The three-state output of the FOD2200 reduces additional circuit board components by eliminating the need for a pull-up resistor. In high noise applications, the FOD2200 is especially effective for isolating high-speed logic interfaces and for buffering input and output lines. This DIP-8 package is available in three leadform options for either through-hole or surface-mount applications.

"With its three state output detector and hysteresis circuitry, the FOD2200 allows the designer to drive data buses directly and eliminates the possibilities for output signal chatter," said Krish Ramdass, strategic marketing manager for Fairchild's Optocoupler Group. "The introduction of the FOD2200 further strengthens Fairchild's portfolio of high performance optocouplers designed for the industrial market segment."

The FOD2200 broadens Fairchild's portfolio of products targeting industrial applications. These products include a variety of solutions for AC/DC conversion, DC/AC conversion, motion and speed control, isolation, data acquisition, indicators and displays, and DC/DC conversion.

Price: US$ 1.60 each for (1K pcs.)

Availability: Now

Delivery: 8 weeks ARO

For more information about these products go to fairchildsemi.com/pf/FO/FOD2200.html. For information on other Fairchild products, design tools, and sales contacts, please visit www.fairchildsemi.com.

Fairchild Semiconductor:

Fairchild Semiconductor (NYSE: FCS) is a leading global supplier of high performance products for multiple end markets. With a focus on developing leading edge power and interface solutions to enable the electronics of today and tomorrow, Fairchild's components are used in computing, communications, consumer, industrial and automotive applications. Fairchild's 9,000 employees design, manufacture and market power, analog & mixed signal, interface, logic, and optoelectronics products from its headquarters in South Portland, Maine, USA and numerous locations around the world. Please contact us on the web at www.fairchildsemi.com.

More from Test & Measurement