Locon Enhances Inductive and Photoelectric Sensors for Use in Harsh Environments
Press Release Summary: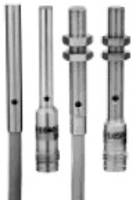 The Universal Cylindrical FMS Series Photoelectric sensors use pulsed infrared M18 and M30 photoelectrics. These sensors are designed to detect targets in the environments containing moisture and dirt and up to temperatures of 250°C. The high temperature inductive sensors are available in 2 to 50 mm range and can be operated in -25°C up to 250°C temperature range.
---
Original Press Release:
Harsh Environment Compatible Sensors Reintroduced By Locon Sensor Systems, Inc.
Locon's High-temperature Inductive and Universal Cylindrical FMS Series Photoelectric Sensors Technical Specifications Updated To Reflect Superior Functionality.
The high-temperature inductive sensors are designed and built to operate impeccably in extremely harsh industrial environments. Perfectly suited to challenging conditions such as those found in the oil and gas industries, factory floors, or processing facilities, they deliver consistent performance across a wide temperature range, and stand up to the wear and tear associated with these extreme temperatures.
Recently, Locon updated its line of high temp inductive sensors and released accompanying data sheets detailing their technical specifications for exceptional functionality. Depending on the model, the range of these sensors varies from 2mm up to 50mm. The housings are available in a number of different threaded diameters to provide improved fit in each specific customer application. All of the high-temp inductive sensors are shock and vibration resistant. The most heat resistant models can tolerate temperatures from -25° C up to 250° C. Cable lengths can also be customized depending on project requirements.
Locon's Universal FMS Photoelectric series offers a reliable sensing solution for rugged conditions, with the newly revised datasheets reflecting improved technical aspects of functionality. Using pulsed infrared light, the M18 and M30 photoelectrics consistently detect the target in environments containing moisture and dirt, operating effectively in temperature ranges up to 250 degrees Celsius when paired with a Locon fiber optic cable.
Locon Sensor Systems also welcomes the opportunity to create completely customized sensor designs to meet the specific requirements of each application.
To learn more about the Locon sensors suited to harsh environments and view the product catalog, visit www.locon.net.
For additional information, call 800.356.2661, or email sales@locon.net.
More from Electronic Components & Devices