Locomotive Cab Computer Displays optimize PTC systems.
Press Release Summary: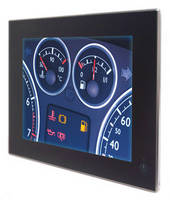 Custom designed for freight and commuter railroad companies, locomotive cab computer displays provide visual interface between vehicle operator and cab signal system. Displays feature solid state indicators and show mission critical data and information along with other key indicators. Designed for Positive Train Control (PTC) and automatic train control systems, custom computer displays and touchscreen interface solutions meet U.S. Rail Safety Improvement Act requirements.
---
Original Press Release:

AIS's Design for Manufacturability Services for Locomotive Cab Computer Displays Optimizes Positive Train Control (PTC) Systems for Freight & Commuter Railroads



AIS Manufactures Custom Control Display Units for Integrated PCT Command, Control, Communications, and Information Systems to Meet U.S. Rail Safety Improvement Act of 2008



IRVINE, CALIFORNIA — American Industrial Systems, Inc. (AIS), a leader in custom  computer displays, touch screen interfaces and HMIs for railway applications,  announces its design for manufacturability and concurrent engineering services available  for development of new custom locomotive cab computer displays for freight and commuter railroad companies.  AIS HMIs are the primary visual interface between the vehicle operator and the cab signal system. It displays mission critical data and information at any given time and often other key indicators are integrated into the display as well. AIS employs long-lasting solid state indicators on all of their custom displays, interfaces and HMIs which minimizes equipment failures and downtime.



Specifically designed for Positive Train Control (PTC) and automatic train control systems, AIS's custom designed control displays and HMIs optimize safety, security, precision and efficiency in many railway applications.  Depending on command, control and communication requirements, the company can design, engineer, manufacture, produce, repair and service an array of custom locomotive cab control display units.  Their custom computer displays and touch-screen interface solutions enhance automatic train control systems by allowing the operator of a mass transit vehicle to communicate with the positive train control system. The cab control console utilizes microprocessor controls, a liquid crystal display, a HMI touch screen interface, standard keypads, networking interfaces and RS-232/422/485 communications for monitoring and controlling train movements to provide increased safety.



AIS Locomotive HMI Displays Optimize PTC Systems While Maximizing Safety and Costs

In response to several fatal rail accidents between 2002 and 2008, Congress passed the Rail Safety Improvement Act of 2008.  These new regulations govern different areas related to railroad safety, such as hours of service requirements for railroad workers, positive train control implementation, standards for track inspections, certification of locomotive conductors, and safety at highway-rail grade crossings.



AIS custom locomotive displays and HMIs for automatic train control system meet the U.S. Rail Safety Improvement Act. They help the automatic train control system continuously monitor all train line movements, as well as at stations, to provide safe control, signaling and communication. Signaling information as well as operational information can be transmitted via AIS custom control display units to make railway services more efficient and cost-effective.



AIS's Design for Manufacturability & Concurrent Engineering Services Facilitate Advanced Command, Control & Communication Solutions for Railway Applications



Design for manufacturability is the process of proactively designing products to optimize all the manufacturing functions: fabrication, assembly, test, procurement, shipping, delivery, service, and repair. It is also to assure the best cost, quality, reliability, regulatory compliance, safety, time-to-market, and customer satisfaction.  AIS incorporates design for manufacturability and concurrent engineering principles and techniques to develop their locomotive cab computer displays and HMIs for freight and commuter railroad customers.  The proven touch screen interface, display and HMI design methodologies that AIS incorporates into the at early stages of development, helps drastically shorten product development and manufacturing time, minimize development cost, and ensure a smooth transition into production for quick time to market.



AIS Design for Manufacturability Services Enable Freight & Commuter Railroad Companies To:

• Reduce non-compliance risks, penalties, lost sales, lower market share and loss of reputation

• Improve time to market through faster decision and design cycles

• Increase productivity and enhance internal and external collaboration

• Ensure consistent quality with standards that meet customer and market demand

• Eliminate the hidden costs of poor standards or regulations management

• Increase procurement efficiencies with one relationship, negotiation and transaction



AIS Has Extensive Positive Train Control (PTC) Expertise & Know-How for Custom Controls & Displays



Positive Train Control (PTC) is an emerging train control system with special focus on North America in which AIS has considerable expertise and knowledge gained from developing locomotive touch screen and HMI displays for the railroad industry. PTC systems are integrated command, control, communications, and information systems for controlling train movements with safety, security, precision, and efficiency. PTC systems will improve railroad safety by significantly reducing the probability of collisions between trains, casualties to roadway workers and damage to their equipment, and over speed accidents. The National Transportation Safety Board (NTSB) has named PTC as one of its "most-wanted" initiatives for national transportation safety.



Implementing PTC Technology Poses Many Challenges for Railroad Companies &Their Contractors



PTC development and implementation includes a daunting array of tasks that railroads must perform, including:

• A complete physical survey and highly precise geo-mapping of the 60,000 miles of railroad right-of-way on which PTC technology will be installed, including geo-mapping of nearly 474,000 field assets (mileposts, curves, grade crossings, switches, signals, and much more) along that right of way.

• Installing PTC technology on approximately 22,000 locomotives.

• Installing approximately 36,000 "wayside interface units" (WIU) that provide the mechanism for transmitting information to locomotives and the train dispatching office from signal and switch locations along the right of way.

• Installing PTC technology on nearly 4,800 switches in non-signaled territory and completing more than 12,300 signal replacement projects at locations where the existing signal equipment cannot accommodate PTC technology.

• Developing, producing, and deploying a new radio system and new radios specifically designed for the massive data transmission requirements of PTC at 4,200 base stations, 33,700 trackside locations, and on approximately 22,000 locomotives.

• Developing back office systems and upgrading dispatching software to incorporate the data and precision required for PTC systems.

• Installing more than 20,000 new antenna structures nationwide to transmit PTC signals.



AIS Empowers Organizations with Innovative Tools for Managing Industry Standards & Regulations



AIS promotes standardization of material, facilities, and engineering practices for the purpose of improving railway safety standards, regulations, operational readiness, reduce total cost of ownership and acquisition cycle time. Industry standards state requirements in performance terms in order to make maximum use of technologies, products, and practices. Experienced AIS engineers manage design tools and methods; deliver intelligence, techniques and data; to drive innovation, collaboration and efficiency in product design.



• EN 50155 - Railway Applications - EN Standard for Electronic Equipment Used on Rolling Stock

• EN 50126 - Railway Applications - EN Standard for Reliability, Availability, Maintainability and Safety

• EN 60950-1 - Railway Applications - EN Standard for Information Technology Equipment and Safety

• EN 60721-3-2 - Railway Applications - EN Standard for Classification of Environmental Conditions - Part 3: Classification of Groups of Environmental Parameters and Their Severities

• IEC 60529 - Railway Applications - Standard for Degrees of Protection Provided by Enclosures (IP Code)

• IEC 61076-2-101 - Railway Applications - Standard for Connectors for Electronic Equipment

• IEC 62236-3-2: - Railway Applications - Standard for Electromagnetic Compatibility

• IEC 61373 - Railway Applications - Standard for Rolling Stock Equipment - Shock and Vibration Tests

• ARR S-910, S-9401 - Railway Applications - Association of American Railroads - AAR Standard for Electronics System Architecture

• ANSI IEC 60529 - Degrees Of Protection Provided By Enclosures (IP Code), Measures To Protect Both The Enclosure And The Equipment Inside The Enclosure Against External Influences Or Conditions Such As Corrosion, Corrosive Solvents, Fungus, Vermin, Solar Radiation, Icing, Moisture, And Explosive Atmospheres



About AIS

Headquartered in Irvine, California, USA, American Industrial Systems, Inc. (AIS) offers in-house electronic and mechanical design, software development, manufacturing, production and quality control services. Offering one of the widest ranges of Industrial Computing solutions, AIS solutions are available in a multitude of configurations for Industrial, Oil & Gas, Military and Marine applications. The company is fully committed to empowering, improving and delivering turnkey HMI, monitoring and display solutions for OEM, ODM and end-user customers. AIS is an ISO 9001:2008 certified supplier and manufacturer of rugged computers and displays, and received completion of the International Traffic in Arms Regulations (ITAR) registration from the Directorate of Defense Trade Controls (DDTC). For more information, visit: www.aispro.com, email: sales@aispro.com or contact: 1-888-485-6688.



Media Relations Contact:

American Industrial Systems, Inc.

Santiago Consunji

Business Development and Marketing Manager

949-681-7463

santiago.consunji@aispro.com

More from Material Handling & Storage