Lockport Powerhouse Solar Powered LED Flagpole Light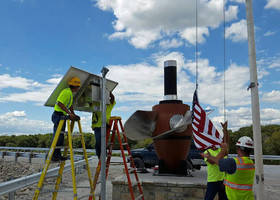 In an area near the Lockport Powerhouse, a flag was being installed on this historic site, but bringing power to this specific location was difficult. Since flags are to be illuminated from dusk to dawn, solar powered LED flagpole light systems came to the rescue.
They required a solar lighting solution for a 39' flagpole with no electricity nearby and there were concerns for theft or vandalism. Since the fixtures were not able to be ground mounted and the solar power assembly needed to be high enough to stay outside harm's way.
SEPCO came up with a new design to mount the flood fixture at the top of a 15' direct burial pole shining up at the flag while having the solar mounted directly below. Since the fixture shines up, there are no issues of the light on the solar and the flood fixtures are small enough to not cause a shading concern. The use of a locked battery assembly also helps prevent theft and vandalism issues.
Since the flagpole was quite high, with a larger flag, a higher powered flood fixture was used to provide enough illumination on the flag. Since IL has little sun in the winter months and many overcast days, we increased the battery storage to compensate, ensuring the solar will have flawless operation year round.
This design has been easily adapted for more solar flag lighting projects. Since some flag poles can be quite high, having the fixture up at 10' or more can allow for better lighting of the flag with a lower wattage fixture. This design also prevents installation issues since all wiring is located at the top of the pole, like in standard solar lighting systems.
SEPCO prides itself with being able to adapt to the customer requirements to provide a specific system to meet their needs. By combining old designs with some new concepts allowed for a new standard system to be added for up lighting that requires larger power systems.
More from Architectural & Civil Engineering Products