Lockout Panels are suitable for ultrasonic welders.
Press Release Summary: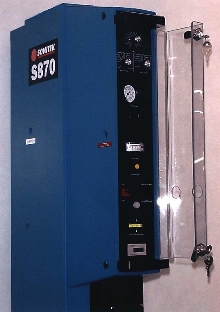 Securely attached to control area of welder, lockout panels cannot be opened without key once they are closed and locked. This allows production managers or qualified technicians to set parameters of welding processes and lock panel, limiting control access to unauthorized personnel. Lockout panels can be ordered for Heatstaking equipment and Ultrasonic Welders.
---
Original Press Release:
Sonitek Corporation Introduces New Lock-Out Panel for Ultrasonic Welders

MILFORD, CT - Sonitek Corporation, located at 84 Research Drive in Milford, CT announces the addition of a new option to compliment their line of Ultrasonic Welders.

Originally designed for Sonitek's line of Heatstaking equipment, the lockout panels have been adapted to fit the Welders as well. The lockout panels are made with quality and safety in mind. "Quality and safety are among the most important factors in any production environment", said Robert Bishop, President of Sonitek. "With our new lock-out panel we are channeling in on what our customers need."

The new lockout panel is securely attached to the control area of the welder. The panel can be locked and once is closed cannot be opened without the key. This allows production managers or other qualified technicians set the parameters of the welding process and lock the panel, limiting access to the controls to any unauthorized personnel. This eliminates the possibility that the welding parameters will be changed, which could ultimately put the quality of the products being welded at risk. Manufactures can rest assured knowing that their machines are running to the parameters they set allowing for maximum quality control over the products.

Sonitek lockout panels can be ordered for its line of Heatstaking equipment and Ultrasonic Welders, as well as any Branson Ultrasonic Welder.

Ultrasonic assembly is a fast, clean, and efficient way of joining plastic parts with remarkable bonds while consuming little energy. The process requires no solvents, adhesives, mechanical fasteners, or external heat. Ultrasonic assembly is accomplished by converting high frequency electrical energy into high frequency mechanical motion. That, coupled with applied force creates heat at the joint area and in turn melts the plastic and forms a bond between the parts.

Sonitek Corporation is a leading manufacturer of plastic assembly equipment that meets the need for plastic assembly in all markets including: Automotive, Appliance, Business and Consumer Electronics. Toys, Medical Device, Injection Molders, and Packaging. Please visit www.sonitek.com for additional product information.

Contact:

Alison Reilly

203-878-9321

areilly@sonitek.com
More from Mechanical Power Transmission