Locking Key Slot attaches standoffs and fasteners to PCB.
Press Release Summary: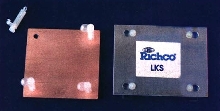 LKS can be used in place of pressed in metal screw insert to attach fasteners to circuit boards and panels. It is easily installed and removed by hand from same side of panel. It has low insertion force yet pullout force exceeds strength of most standard PC boards. Slot is made of Nylon 6/6 to fit panels and circuit boards 0.062 in. thick. LKS holds standoffs, wire ties, wire routing clips and clamps.
---
Original Press Release:
Locking Key Slot (LKS-1)

User Benefits:
*Small foot print
*Easily installed and removed by hand from the same side of panel
*Designed for .062 thick board, other thicknesses available on request
*Pullout force exceeds the strength of most standard PC boards
*Anti-rotation design permits use of stud mount with high torque values and orientation

Part Features:
*Six new styles of LKS available in heights from 1/8 to 5/8
*Low insertion force
*Very high "pull-out force"

Richco Inc. introduces the Locking Key Slot (LKS) for attaching a variety of standoffs and fasteners to circuit boards and panels. Currently the product is available for panels and circuit boards .062 thick, other thickness available upon request. The Locking Key Slot (LKS) provides the strength of metal inserted studs, the convenience of arrowheads, it is designed to be anti-rotational, and it is quickly and easily removable, without tooling! The LKS is designed to be used in place of a pressed in metal screw insert without requiring the use of a press and anvil. The LKS is inserted from the top of the board/panel, and has a pull out force, which meets or exceeds that of most inserted metal studs, which are inserted from the top. The pullout force of the LKS exceeds the strength of most standard PC boards. The LKS will be available on a variety of products including standoffs, wire ties, and wire routing clips and clamps. The LKS is very adaptable to custom applications, is made of Nylon 6/6, and is available in standard packs of 1,000 pieces.

Target Markets:
*Telecommunications
*Electronic Equipment
*Automotive Industry
*Computer Industry

Related