Lock System protects residential water and gas meters.
Press Release Summary: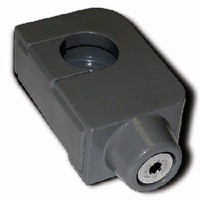 Designed to fit snugly over meter coupling nut, SHUT-OUT® Defender prevents redirection of piping to bypass residential meters, defending against theft for maximum asset security. Constructed of hardened steel, unit features High Security ABLOY® cylinder with steel body and hardened steel, chrome-plated face. Spring-free construction prevents jamming for smooth operation. Lock is resistant to physical attack and tampering, as well as wear, dirt, moisture, corrosion, and freezing.
---
Original Press Release:

Abloy Security, Inc. Launches New SHUT-OUT ® Defender: the High Security Solution for Residential Water and Gas Revenue Protection



NOVEMBER 14, 2007

Abloy Security, Inc. announces the launch of the new SHUT-OUT® Defender - the High Security solution for residential water and gas revenue control. This new product was designed and built to protect residential Water and Gas Utility service and revenues.

Residential theft from Water and Gas Utilities has been an increasing issue. In working with utility companies, Abloy Security has designed the SHUT-OUT® Defender to secure revenues by preventing redirection of piping to bypass residential meters. The SHUT-OUT® Defender fits snugly over the meter coupling nut, defending against theft and delivering maximum asset security. Constructed of hardened steel, the SHUT-OUT® Defender features a High Security ABLOY® cylinder with steel body and hardened steel, chrome plated face.

The unique materials and surface treatments used by ABLOY® guarantee a superior level of corrosion resistance of both the visible parts of each lock as well as the internal parts. ABLOY® locks are recommended as the best products for all types of weather ranging from freezing to coastal environments since all component parts are highly resistant to wear, dirt, moisture, corrosion and freezing. The spring free construction prevents the locks from jamming and ensures smooth operation.

ABLOY® high security locking solutions offer a level of performance and protection which remains unsurpassed. With high resistance to physical attack and tampering, ABLOY® provides dependable durability even when used in harsh environmental conditions. Patented key control with the ABLOY® EXEC key series restricts key duplication to authorized personnel. Coupled with the ABLOY® systems' extensive master-keying possibilities, this provides for a secure and operationally convenient system. ABLOY® locks are widely used by utilities, government and national transportation organizations given that all the component parts are highly resistant to wear, dirt, moisture, corrosion and freezing.

Abloy Security, Inc. is a GSA contractor and offers a complete range of maximum security locking solutions to fit the varied requirements of the Utility Industry. Additional solutions designed for these markets include the, ABLOY® PL Series Padlocks, ABLOY® Door Locks, ABLOY® SMARTDISC (electromechanical locks), SHUT-OUT ® Puck Locks and Hasps.

For more information on these locking solutions please visit our website at www.abloyusa.com.

For further information, contact:
Jennifer Malcuit
800-367-4598
jmalcuit@abloyusa.com

More from Computer Hardware & Peripherals